Print Friendly Version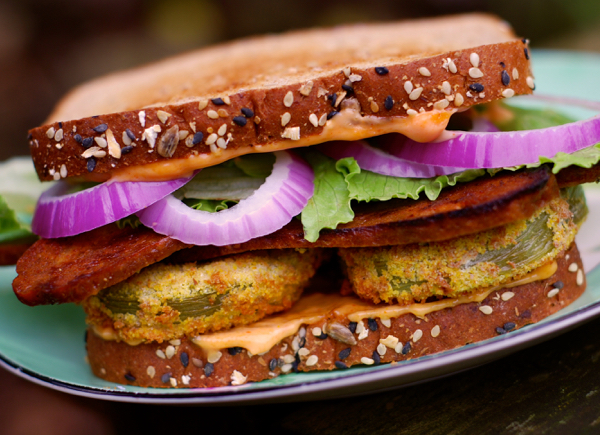 Ohmygosh. Have you ever had a fried green tomato BLT? I had one a few years ago (before going vegan) and I was craving one like crazy a couple weeks ago. I couldn't stop thinking about it! I had just made a batch of my VEGAN SEITAN BACON and, as fate would have it, I had also become the lucky recipient of a basket of green tomatoes (Thanks, Nancy!)
A sandwich has never tasted better. Make up some of my bacon (it's really easy), orrrrr buy some of your favorite vegan bacon (Fresh Thyme, Whole Foods, Hy Vee, and I believe even Cub Foods, carry different varieties. Do a taste test to find one you like.) And if you happen to have a green tomato (or 12) on the counter, run to the kitchen and make these for lunch or dinner! I'm serious! Go!
PS… If you don't have romaine or iceberg lettuce, feel free to use any greens you have in the fridge. Arugula adds amazing flavor to this sandwich, and spinach will work in a pinch.
For one sandwich:
2 slices hearty, whole grain bread, toasted and buttered with vegan butter
vegan cheesy garlic sriracha mayonnaise (recipe below)
thinly sliced onion
vegan bacon, sliced and fried up in vegan butter
iceberg or romaine lettuce leaves, washed and patted dry
vegan air-fried green tomatoes (recipe below)
For the Fried Green Tomatoes:
1 medium green tomato, cut into 1/4 inch slices
salt and pepper
1/4 cup all purpose flour
1 egg replacer egg (I use Bob's Red Mill)
1/4 cup plain, unsweetened plant milk
1 Tablespoon apple cider vinegar
1/3 cup panko bread crumbs
1/3 cup cornmeal
~ preheat your air fryer to 400 degrees F. ~
Pat tomato slices dry with paper towels. Season with salt and pepper.
Put the flour on a plate.
In a shallow bowl, whisk the egg replacer egg, plant milk, and cider vinegar.
On another plate, combine the panko bread crumbs and cornmeal.
Note: Feel free to season your breadcrumbs and/or flour with a little onion powder, garlic powder, seasoned salt, pepper, and smoked paprika. I didn't really measure when I seasoned mine, just added a light sprinkle of all the above. You can skip this altogether if you like since the sriracha mayonnaise and vegan bacon are already so flavorful.
Coat the tomato slices, one at a time, in flour. Then dip each slice in the wet mixture so they're completely covered. Last, dredge each slice in the panko mixture, pressing so it sticks. Mist your air fryer basket with a little spray oil. Place tomato slices in air fryer in one layer and then lightly mist the slices. I use organic olive oil spray for this. Air fry for 5 minutes. Flip tomato slices. Mist with oil. Air fry an additional 3 minutes or until light golden brown and hot all the way through.
For the vegan cheesy garlic sriracha mayonnaise:
Place the following in a small bowl:
2 Tablespoons vegan mayonnaise
2 teaspoons sriracha
1 Tablespoon nutritional yeast
1 small garlic clove, minced
Whisk until completely combined and smooth.
Building your sandwich:
Toast two slices of your favorite whole grain bread (or whatever kind of bread you prefer. Sourdough is another excellent choice.) Butter the toast. Slather half of the sriracha mayonnaise on the bottom slice of toast. Top with the air fried green tomatoes, some vegan bacon that has been sauteed in vegan butter until slightly crispy, crisp green lettuce leaves or arugula, thinly sliced purple onion, and finally the other piece of buttered toast, slathered with the rest of the sriracha mayonnaise.
Soooooo good! Enjoy!
~Melissa
You may enjoy these related posts: