Print Friendly Version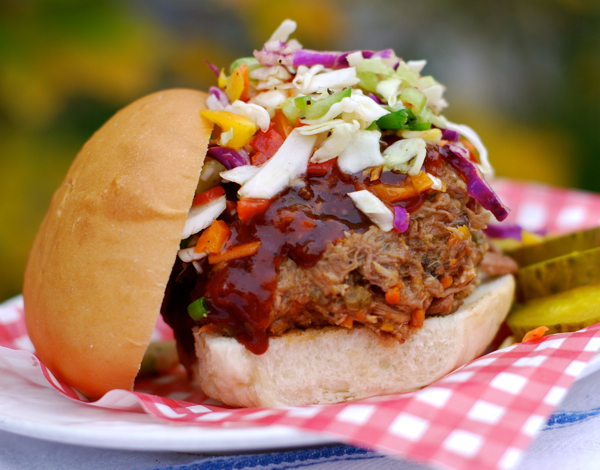 We had a houseful of people over a few days ago and I made up a big batch of this easy, slow cooker, barbecue awesomeness. Everyone absolutely loved it! It's a bit different than the usual barbecue beef or pulled pork because you use both! They serve this at county fairs and art fairs here in the Midwest, and because of the beef and pork combination they call it "hoof and snout." I don't really like that name, but there you have it. Even with the weird name, the combination can not be beat!
If you like barbecue, you'll LOVE this!
2 and 1/2 lb. beef chuck arm roast, trimmed of visible fat
2 and 1/2 lb. pork butt roast, trimmed of visible fat
2 ribs celery, chopped fine
1 large onion, chopped fine
3 large carrots, chopped fine
2 Tablespoons dry oregano leaves
1 teaspoon dry ginger
2 teaspoons liquid smoke
3 bay leaves
coarse sea salt
freshly ground black pepper
a bottle of your favorite sweet and smoky barbecue sauce
buttered french rolls or good quality hamburger buns
thick sliced dill pickles
a batch of sweet pepper confetti slaw
Place roasts in a large 7 to 8 quart slow cooker. Add all chopped veggies oregano, ginger, liquid smoke, salt and pepper. Rub roasts with the seasonings so they're coated well. Place bay leaves in slow cooker. Cover and cook on LOW for 8 hours, or HIGH for 4 hours. It's done when both roasts are falling apart and very tender.
To serve: Drain off excess juices. Shred roasts with two forks. Add your favorite barbecue sauce, to taste. Top buttered rolls with some of the barbecue meat mixture, more barbecue sauce, slaw, and pickles.
Enjoy!
~Melissa
You may enjoy these related posts: