Print Friendly Version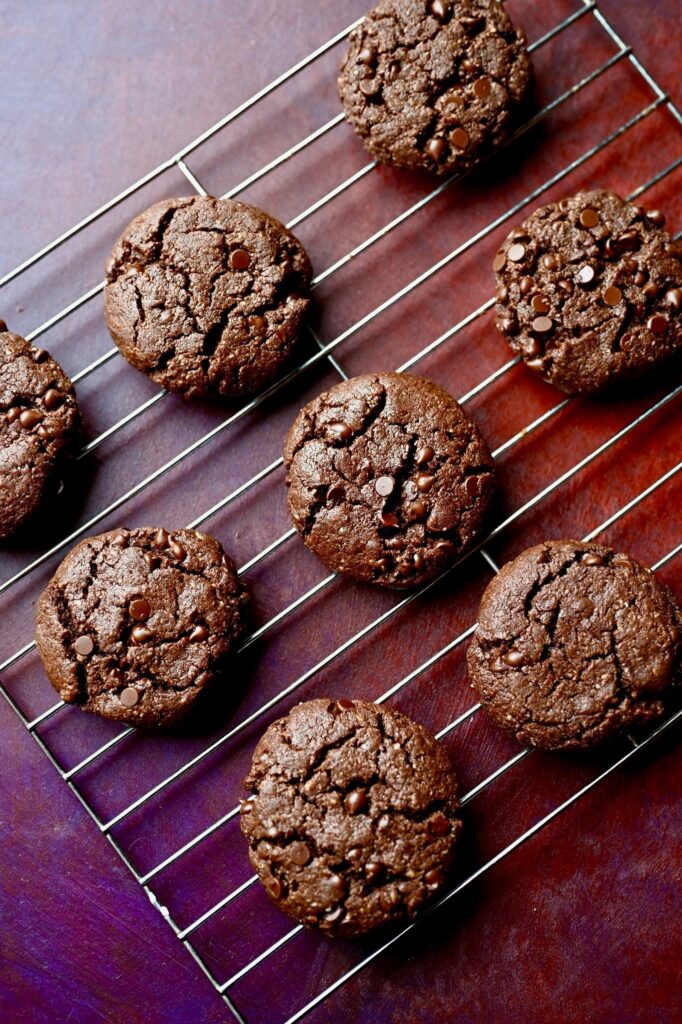 It's official. I'm on a chocolate kick. I haven't really made anything other than chocolate treats for Christmas this year and we only have a few days to go. I have plans for making more stuff, but we'll see. Who else makes grand plans for cooking, baking, crafting, and decorating EVERY year, and ends up doing less than half of what's on your list?
Anyway, these super soft, delicious, chewy, chocolaty cookies taste just like brownies! They're vegan and grain free too! Bonus! Honestly, if I only made one kind of cookie during the holidays, I'd be happy with just this one. You could drizzle some melted white chocolate, and sprinkle crushed candy canes, over the tops of these once they're completely cool, if you're feeling fancy.
Make up a big batch because they go fast. They're the perfect accompaniment to a cup of coffee, tea, milk, or cocoa. I hope you love them as much as we do.
~ preheat oven to 375 degrees F. ~
2 Tablespoons ground flax meal
1/4 cup warm water
1/4 cup pure maple syrup
1 teaspoon pure vanilla extract
1/4 cup brown sugar or coconut sugar
1/2 cup almond flour/almond meal
1/4 teaspoon baking soda
1/4 teaspoon fine sea salt
1/3 cup unsweetened cocoa powder
1 Tablespoon cornstarch
3/4 cup almond butter
1/2 cup mini chocolate chips (we use Enjoy Life in this recipe)
In a large mixing bowl, whisk the flax with the warm water and set aside for 5 minutes. Once thickened, add the maple syrup, vanilla, brown sugar, and almond butter. Mix well.
In another mixing bowl, combine the almond meal, baking soda, sea salt, cocoa powder, and cornstarch. Mix with a whisk.
Mix the dry ingredients into the wet ingredients until evenly combined. Fold in the chocolate chips. Don't overmix.
Chill the cookie dough in the refrigerator for 1 hour.
Line a large baking sheet with cooking parchment or a Silpat/silicone cooking mat.
Make golf ball size cookie balls out of the dough and place them two inches apart on the lined sheet. Flatten them a little with the palm of your hand. Bake for 12 to 15 minutes. Cookies will be very soft at this point and will harden considerably as they cool, so don't be tempted to overbake them.
Take them out of the oven and slam the sheet on the counter a couple times. Cool 10 minutes on the sheet and then transfer to wire racks to cool completely.
Makes approximately 12 cookies.
Enjoy!
~Melissa
You may enjoy these related posts: