Print Friendly Version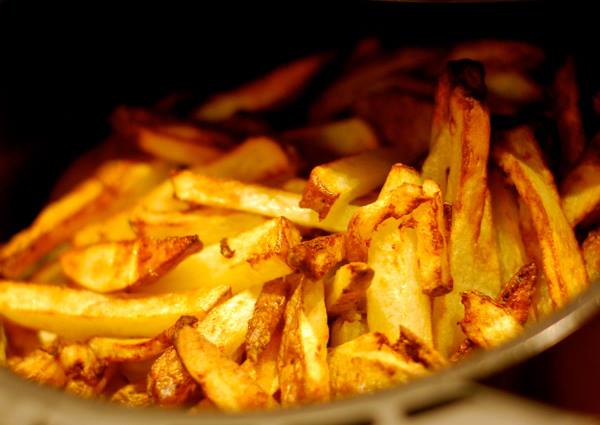 So have you bought an air fryer yet? I'm in love with mine. Once you get the hang of using one you can create crispy, delicious foods that have virtually no oil in them. Junk food without the junk. Who wouldn't want to enjoy a pile of crispy french fries every day? With an air fryer in your kitchen you can! Guilt free.
The main thing you have to know about making air fryer french fries is that your potatoes have to be cut into 1/4 inch strips. Make them as uniform as possible so they all cook at the same rate. The second trick is knowing the temperature, and length of cooking time. My husband came up with the perfect combination which I will share here.
This is a batch of Italian-style fries. Feel free to come up with your own seasonings and flavor combinations. This is just one I'm particularly fond of.
One big serving:
1 big russet potato (peeled or unpeeled)
1 teaspoon olive oil
1 Tablespoon nutritional yeast
1 teaspoon Italian seasoning (basil, oregano)
1/4 teaspoon garlic powder
1/4 teaspoon onion powder
salt and pepper
Wash potato and cut into uniform, 1/4 inch fries. Place them in a mixing bowl with the oil and seasonings. Toss to evenly coat.
Place in basket of air fryer. Ours has a little rack for stacking ingredients that I always remove before making fries.
Air fry at 360 degrees F. for 5 minutes. Toss. Repeat two more times, checking your fries periodically to make sure they don't burn. After 3 sessions at 360 degrees, turn the air fryer to 400 degrees F, and cook an additional minute or two to really crisp them up.
Remove and plate. Serve with marniara sauce for dipping and a garnish of fresh basil.
Enjoy!
~Melissa
You may enjoy these related posts: