Print Friendly Version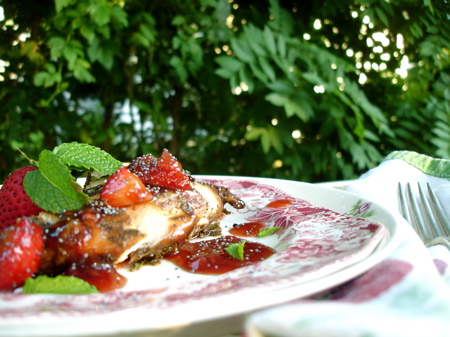 ~strawberry balsamic chicken~
I've been playing with jam in my kitchen. My friend Maria makes awesome jams, preserves and marmalades and generously shares them with me. I'll go out to the mailbox and there will be a brown paper package all filled with jars of her new creations just waiting for me! One of the flavors in this last shipment was strawberry-balsamic-black pepper. It's totally amazing. Because these jams are so unique and flavorful, I've been trying to expand the ways that I use them. It turns out that jam is not just for tea and toast! Who knew?
Last week I mixed a jar of the blueberry-citrus-vanilla with a couple pints of freshly picked blueberries and made a pie. YUMMY! The citrus peel made this pie sparkle! The next day I combined the plum ginger with a couple tablespoons of soy sauce and a little orange peel. I heated up the mixture on the stove and poured it over lo mein noodles, grilled chicken breast strips and pea pods. It was so good! This got me thinking….What would be good in a recipe for strawberry balsamic chicken? Here's what I came up with. Enjoy!
for the marinade:
1/3 cup balsamic vinegar
2 Tablespoons olive oil
Juice and zest of 1/2 lemon
3 Tablespoons brown sugar
1/4 cup finely chopped, fresh mint
1/4 teaspoon cinnamon
1 teaspoon salt
1 teaspoon black pepper
place 4, boneless, skinless chicken breasts in marinade
cover and refrigerate for 1-6 hours
Grill over charcoal.
for the strawberry salsa :
1/2 cup strawberry-balsamic-black pepper jam
OR
1/2 cup strawberry preserves
2 Tablespoons balsamic vinegar
1/2 teaspoon freshly ground black pepper
mix this with-
1 cup sliced, fresh strawberries
Top grilled chicken with the salsa
garnish with fresh mint leaves and poppy seeds
mmmmmm!
XO,
~Melissa
You may enjoy these related posts: