Print Friendly Version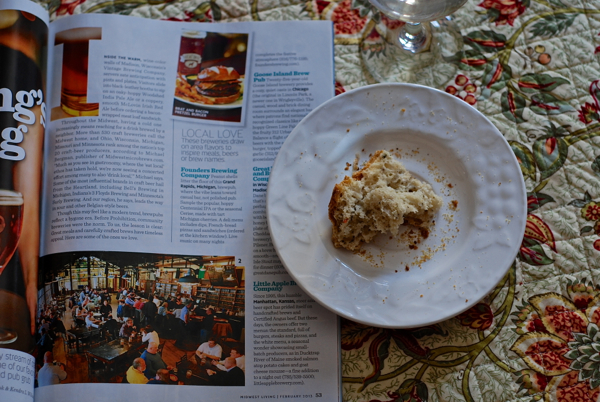 Who else is really glad it's Friday? This week seemed to sort of drag on and on, even though I was busy as a little bee almost every day. Today I got out of the house for awhile to take a walk (it's 40 degrees out there! That's 'balmy' for Minnesota in January. Heat wave… ) I strolled up to the market downtown to get the ingredients for my Lemon Asiago Linguini Primavera for lunch with the hubby. It was so good. Exactly what I needed. Piles of lemony pasta with tender veggies and tons of garlic. YUM! I promise to post the recipe for that sometime next week.
Here's a recipe for another rendition of Dutch Oven Bread. My recipes for this bread have been pretty popular, so I like to keep adding different flavor combinations and choices to the repertoire. This one is spicy! If you don't like spicy, you could definitely cut down on the red pepper in this recipe, or omit it all together. You'll still end up with a lovely, cheesy, Italian loaf that is wonderful made into buttery garlic bread and homemade croutons for salad! We enjoyed the first half by just tearing off chunks and dipping them in extra virgin olive oil with fresh Parmesan cheese, sea salt and cracked pepper.
1 packet active, dry yeast
1 and 1/2 cups warm water
3 cups all-purpose flour
1 cup freshly grated Asiago cheese
1 Tablespoon red pepper flakes
2 teaspoons sea salt
2 teaspoons freshly ground black pepper
1 Tablespoon dried basil
1 Tablespoon dried oregano
1 Tablespoon garlic powder
1 Tablespoon dry onion flakes
In a large glass or pottery bowl, dissolve yeast in warm water. Add flour, cheese, red pepper flakes, salt, black pepper, oregano, garlic powder and onion flakes. Stir with a wooden spoon until blended. Cover tightly with plastic wrap and allow to proof on counter top for 8 hours, or until bubbles appear on the surface of the dough. Lightly flour a work surface. Using floured hands, gently remove the dough from the bowl and place it on the floured surface. Turn the dough over on itself twice. Cover with plastic wrap. allow dough to rest for 15 minutes. Open up a clean, large flour-sack towel and lay it over the top of a big, clean pottery or glass bowl. Push it down in the center so it lines the bowl. Generously coat the towel with dry cornmeal. Place the bread dough, seam side down, on the towel. Sprinkle a little more cornmeal over the top of the dough. Cover the bread with another towel. Place the bowl in a warm spot to rise for 2 hours, or until doubled in size. 20 minutes before the dough is ready, heat oven to 475 degrees F and place a covered, cast iron Dutch oven inside the oven to heat up. When dough is ready, remove the pot, remove the lid, and put the dough in the pot seam side up. Replace the cover and bake at 475 degrees F for 30 minutes. Remove the cover and bake an additional 20 minutes or until bread is well browned and sounds hollow when tapped. This loaf doesn't raise quite as high as a plain loaf of Dutch oven bread because of the cheese content. Don't fret. It tastes awesome. Cool on a wire rack one hour before slicing.
Enjoy!
~Melissa
You may enjoy these related posts: