Print Friendly Version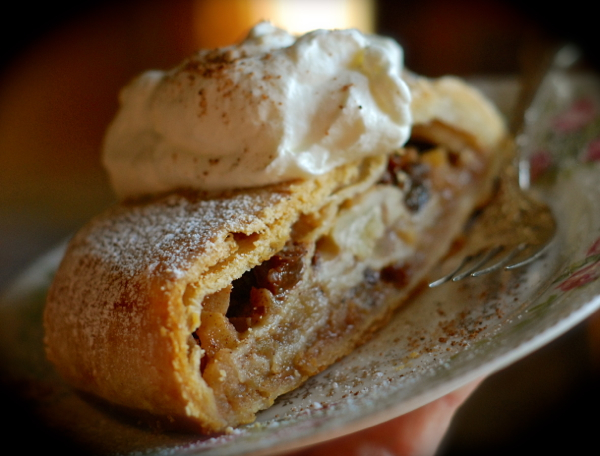 My husband's recipe for apple strudel is sort of complicated, but just like any other recipe it will get easier the more times you make it. If you don't have time to make the strudel dough, you can use frozen, ready to bake strudel dough or phyllo, but it really is worth the extra effort to make this completely from scratch. It tastes SO good!
~ serves 8 ~
~ preheat oven to 375 degrees F. ~
for the dough:
2 cups all purpose flour + more for rolling out
1 whole egg
1/4 cup melted butter
1 Tablespoon apple cider vinegar
1 cup slightly warm water (add only as much as needed)
a sprinkle of salt
Mix the flour, egg, butter, vinegar, water (a little at a time) and salt together in a large mixing bowl. Transfer to a large, flat work surface and knead for 5 minutes, until smooth (but not soft.) Cover dough and allow it to rest in a warm place for 30 minutes (Jeff lets it sit on the preheating oven.) While the dough is resting, make the filling.
for the filling:
 1/2 cup butter for brushing surface of the dough
2 lb. sweet-tart cooking apples, chopped fine
1 and 1/4 cup sugar (plus 1 Tablespoon for sweet crumbs)
1/2 cup raisins
1/2 cup sweet crumbs*
1 and 1/2 Tablespoons quick cooking tapioca
juice and zest of one lemon
2 and 1/2 teaspoons cinnamon (plus a 1/2 teaspoon for sweet crumbs)
1 shot spiced rum
Combine all filling ingredients, except for the sweet crumbs and melted butter, in a bowl to allow the flavors to "marry."
to make the sweet crumbs:
Sweet crumbs are used for absorbing liquids from the filling as the strudel bakes.
Melt 1 Tablespoon butter in a skillet, add:

1/2 cup dry, unseasoned bread crumbs
a Tablespoon of sugar
1/2 teaspoon cinnamon
Toss over medium heat until crumbs are hot. Don't brown them. Remove from heat and set aside until ready to use.
to roll the strudel:
Spread a large, clean flour sack towel over your work surface. Flour it and place the slightly warmed dough on it. You'll start to stretch the dough using a rolling pin, and later (to make it even thinner) you gently pull the dough with the backs of your well-floured hands. You'll want to gently stretch it in all directions so it's uniform. Be careful not to tear holes in your dough. The desired result is dough that is as thin as a sheet of paper. This will take patience and practice.
Once your dough is completely rolled out (and approximately 2 and 1/2 feet by 4 feet,) you'll want to brush the entire surface with (approximately 1/2 cup) melted butter. Spread the sweet crumbs over the surface, leaving a 3 inch border all the way around. Place the filling on the crumbs. It will be fairly wet, so you may want to roll up the sides a little to catch any liquid that tries to escape the surface of the dough. Use the towel to help you roll the strudel (start with a short side of dough and roll towards the other short side.) Roll the sides in a little as you go. Proceed until it's completely rolled. Carefully place on a large baking sheet with a 1 inch lip on it. Brush the outside of the strudel roll with a little more melted butter.
Place it in the preheated oven and bake for 1 hour to 1 hour and 10 minutes (until golden and fragrant and hot all the way through.
Strudel is best served very fresh and warm from the oven. Once plated, add a scoop of vanilla ice cream or a drizzle of heavy whipping cream.
Enjoy!
Jeff and Melissa
You may enjoy these related posts: