Print Friendly Version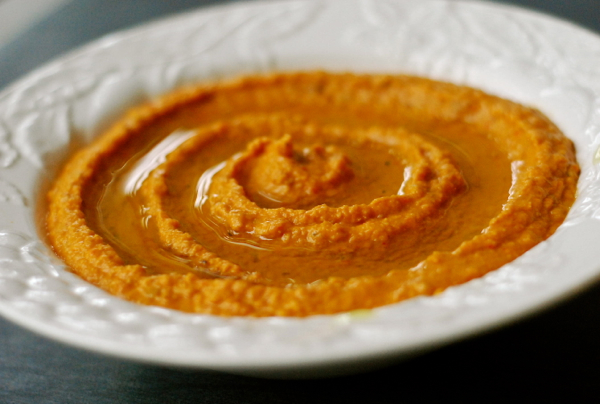 Hummus is a versatile, healthy, high protein dip that's wonderful served with fresh, toasted pita or baguette, fresh veggies, thinned out and used as salad dressing… or (my favorite) as a topping for sandwiches and wraps.
This particular recipe goes together quickly and you and your family will love it. Keep the ingredients on hand so you can serve this hummus as an appetizer for impromptu guests.
2 large cloves fresh garlic, chopped
1 (15 oz.) can chickpeas, drained and rinsed well
1/3 cup tahini sauce (sesame butter)
1/3 cup fresh lemon juice
1/2 cup roasted red bell pepper (if using the jarred kind, drain well)
1 teaspoon onion powder
1/4 teaspoon cayenne (if you like spicy!)
extra virgin olive oil (for topping)
salt and pepper, to taste
Place all ingredients (except for the olive oil) in the bowl of a food processor and pulse until very smooth. Transfer to a pretty bowl, make a little trench in a swirl pattern over the top of the hummus and pour some extra virgin olive oil into the trench. Salt and pepper to taste.
Enjoy!
~Melissa
You may enjoy these related posts: