Print Friendly Version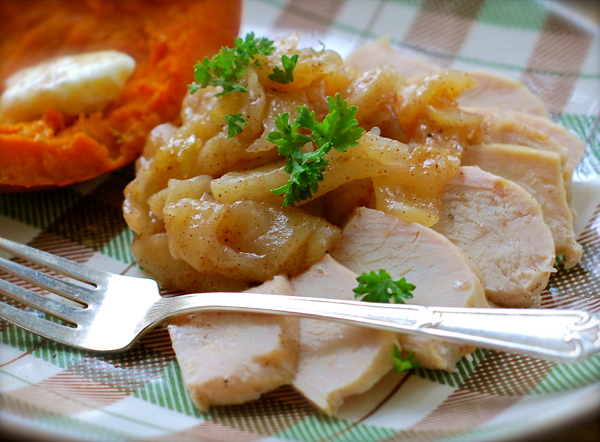 Here's another awesome dish that features fresh orchard apples. Perfect autumn fare! We served this cozy, comforting Scalloped Apple Chicken with a little spinach salad, hubbard squash sprinkled with candied pecans and warm, buttered baguette.
~ serves 4 to 6 people ~
for the chicken:
3 large (or 6 small) boneless, skinless chicken breasts
2 Tablespoons olive oil
1/3 cup dry or sweet white wine
sea salt
freshly ground pepper
Cut large chicken breasts in half to make 6 pieces (or, if using small chicken breasts, just keep them whole.) Place chicken pieces in a glass baking dish. Drizzle evenly with the olive oil and white wine. Sprinkle a little sea salt and freshly ground pepper over the top. Bake at 350 degrees F. for approximately 30 to 40 minutes, or just until very hot and juices run clear when you slice into the biggest/thickest piece of chicken.
While the chicken is baking, make the scalloped apples…
for the scalloped apples:
5 large, tart apples, peeled, cored and sliced thin
1/4 cup brown sugar
1 Tablespoon cornstarch
1/2 teaspoon cinnamon
1/8 teaspoon nutmeg
2 Tablespoons unsalted butter, cut into little chunks
Place prepared apples in a lightly oiled/buttered microwave-safe bowl or casserole dish with a lid. Add brown sugar, cornstarch and spices to the apples and toss evenly so all of the apple slices are coated. Dot the top of the apples with the little butter chunks. Cover and microwave on the HIGH setting for 10 to 15 minutes, or until apples are hot and tender.
Cut the baked chicken into strips/slices and fan them out (as shown above.) Place a scoop of the scalloped apples over the chicken. Garnish with a little fresh, chopped parsely (if desired.) Serve with whatever accompaniments you like. A yummy, stuffing/dressing would be wonderful with this!
Enjoy!
~Melissa
You may enjoy these related posts: