Print Friendly Version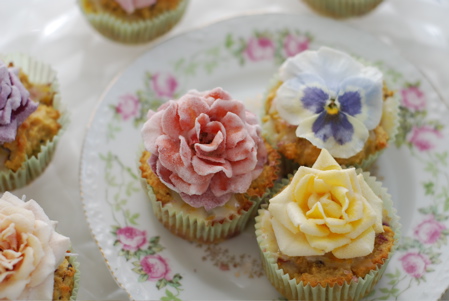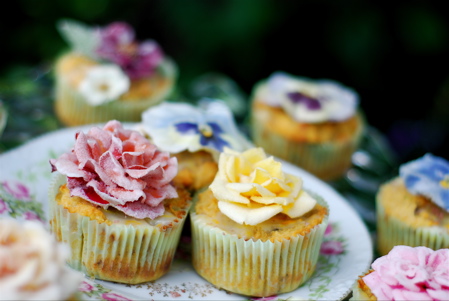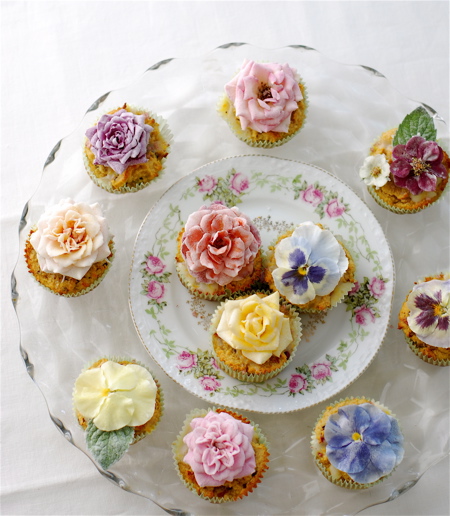 ~ fairy cakes ~
"Flowers add romantic history to our food. They lend a charming, healthy, and unusual dimension to our tables. During Queen Victoria's reign there was a Primrose Day. A fanciful recipe for fairy cups called for a peck of flowers pounded with ladyfingers, three pints of cream, sixteen eggs and a little rosewater, buttered and baked with sugar on top." ~ from The Epicurean website
This past winter my friend Karen Toocheck, the owner of the lovely Crystallized Flower Company out of Willoughby Ohio, asked me to collaborate with her and create a recipe for Fairy Cakes. We had to wait until blooming season, and in the middle of winter that can seem like forever….but finally the time has come!
Karen sent me the original article that inspired her idea for the fairy cakes. (quoted above under the photogrphs)…and that's pretty much all we had to work with. She calculated a general recipe for me to refer to, and after a little tweaking, I think I got it. These little cakes are flowery, and dense, and really nothing at all like a cupcake except for their appearance. They remind me of kuchen. Eggy and moist. I added a little drizzle of fresh orange zest glaze to the tops of them…and a little rose salt for a sweet/salty contrast, but other than that I stuck to the ingredients in the original recipe. If you make these, be prepared for a completely different experience. We enjoyed them with iced tea and they really were lovely.
for one dozen fairy cakes:
1 cup heavy cream
1/3 cup milk
4 cups lady finger cookie crumbs
3 eggs
1 teaspoon rosewater
1/4 cup edible, unsprayed flower petals chopped into "confetti"
(I used pink rose petals, orange marigolds, yellow violas, and purple pansies)
a variety of crystallized or fresh flowers for decorating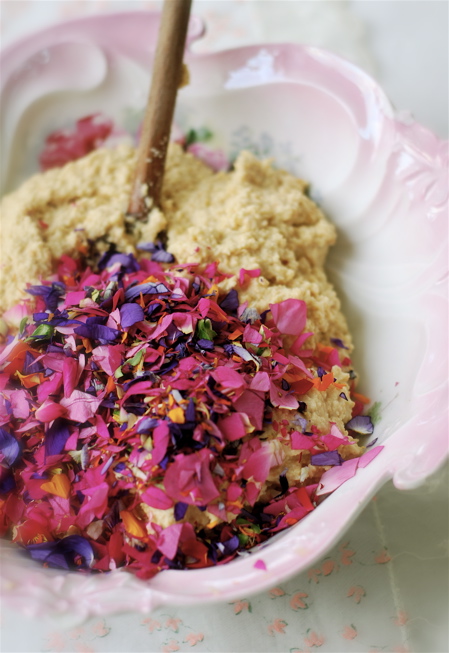 Place broken ladyfinger cookies in the bowl of a food processor and pulse to produce crumbs. (approximately 36 ladyfingers.) Combine the cookie crumbs with the cream, milk, eggs, rosewater and flower petal confetti until all ingredients are evenly incorporated. Line 12 muffin tins with cupcake liners and spoon the batter into the liners. Bake at 365 for 30 minutes or until a skewer inserted into the center of the cupcakes comes clean. allow the fairy cakes to cool a bit before lightly buttering the top of each. Sprinkle a little coarse sugar over the tops and allow them to cool completely before drizzling with icing and decorating with fresh or crystallized flowers.
for icing:
1/2 cup powdered sugar
1 Tablespoon fruit juice (I used lemon)
2 teaspoons orange zest
Enjoy!
~Melissa
You may enjoy these related posts: