Print Friendly Version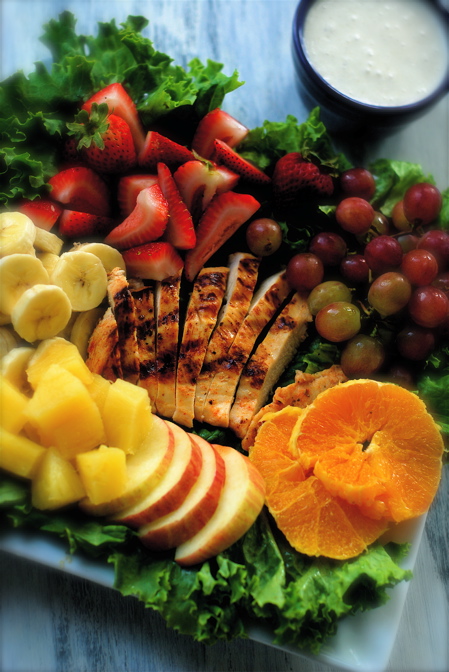 ~ california chicken salad ~
I met one of my dearest and oldest friends at the St. James Hotel for "wine lunch" a couple days ago and was disappointed  to see that they weren't serving my FAVORITE salad any longer! What to do? Well, luckily, one of the former chefs shared the recipe with me awhile back…all I had to do was look through about 2,000 recipes and voila! here it is. Once you have this, you won't be able to stop making it. Just sayin.'
for four salads :
4 grilled chicken breasts
1 head romaine lettuce
16 large, ripe strawberries
1 bunch red grapes
 4 large, ripe bananas (divided)
2 juicy oranges, sliced
2 crisp apples, sliced
1 can pineapple chunks, drained (or fresh pineapple chunks)
On four dinner plates, place a large bed of torn romaine lettuce greens. Place one sliced grilled chicken breast in the center of the greens. Wash and divide the fruits, and place an equal amount on each plate, surrounding the chicken breasts. Reserve two of the bananas for the dressing.
to make the creamy banana dressing:
2 ripe bananas
1 cup sour cream
1/3 cup brown sugar
juice of 1/2 lemon
Place all ingredients in the bowl of a food processor or blender. Blend until pureed and creamy. Serve on top of the salads. Sprinkle salads with salt and pepper to taste.
Enjoy!
~Melissa
You may enjoy these related posts: