Print Friendly Version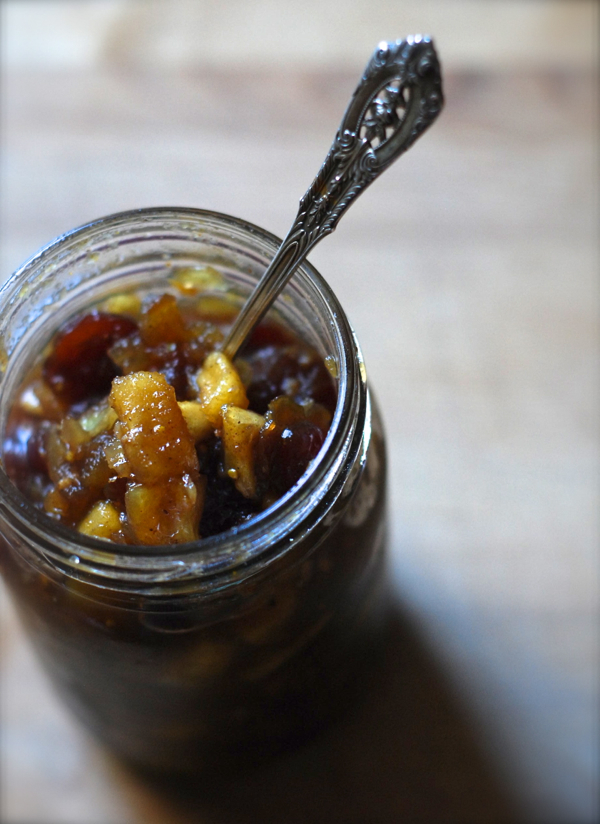 The house smells like cooking. Pungent garlic mixed with creamy butter for baked garlic bread, the rich, sweet, seductive scent of chocolate in our fresh batch of chocolate chip cookies that has just emerged from the oven, the green, fruity smell of unfiltered olive oil, boiled whole grain pasta and the sharp scent of fresh tomato sauce for spaghetti. Mmmmm…. It's been a busy day in the kitchen.
I had another somewhat busy day in the kitchen last Thursday. I made a delicious pork roast and homemade chutney to accompany it. It was so delicious, and the perfect kind of comfort food for this time of year. We served it with maple, oven-roasted butternut squash. Such a delicious meal, and surprisingly lean and healthy.
I think this turned out just lovely. I'll post the recipe for the roast tomorrow. This chutney would make a great addition to a cheese board, and it would be fantastic on THIS chicken if you don't eat pork.
This makes about 3 cups, so pack some into a pretty canning jar and share it with a neighbor or friend if you like. Otherwise, it will keep in your refrigerator for up to 3 weeks.
1 cup apple cider vinegar
3 sweet baking apples
3 tart apples (such as granny smith or Haralson)
2 cups packed brown sugar
1 large onion, chopped fine
1 cup dried cranberries or cherries
1/4 cup finely grated, fresh ginger
4 large garlic cloves, minced
1 Tablespoon yellow mustard seeds
2 teaspoons mild, sweet curry powder
1 teaspoon sea salt
1 teaspoon freshly ground black pepper
1 teaspoon ground allspice
1 shot Captain Morgan Black Spiced Rum
Peel the apples and cut them into uniform, half inch cubes. Mix the cubed apples with the vinegar, brown sugar, onion, cranberries, ginger and garlic. Place in a large saucepan and bring to a boil over medium-high heat, stirring constantly. Once it boils, reduce heat to a gentle simmer and allow to bubble for 35 minutes, stirring frequently (until apples have softened and the chutney has reduced and thickened a bit.)
Stir in the mustard seeds, curry powder, salt, pepper and allspice. Simmer for an additional 15 minutes, stirring occasionally. Stir the rum in during the last 3 minutes of cooking time.
Enjoy!
~Melissa
You may enjoy these related posts: