Print Friendly Version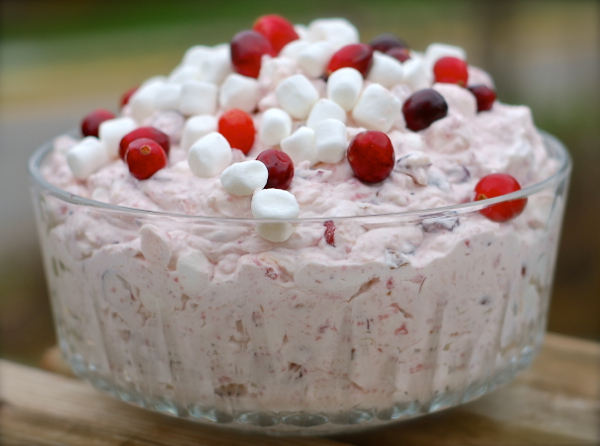 This is one of the alternative ways we prepare cranberries for the holidays. Everyone loves the sweet, fluffy, creamy salad with the tanginess of fresh cranberries and the crunch of apple and pecans! Even people who claim they don't like cranberries love this salad!
serves approximately 18 people (1/2 cup each)
3 cups fresh cranberries, chopped
1 (20 oz.) can unsweetened crushed pineapple, drained well
1 (14 oz.) can whole cranberry sauce
2/3 cup sugar
1 medium apple, unpeeled and cut into little cubes
3 cups mini marshmallows
1/8 teaspoon salt
2 cups heavy cream, whipped until stiff peaks form
1/2 cup coarsely chopped pecans
In a large mixing bowl, combine: fresh cranberries, crushed pineapple, cranberry sauce, sugar, apple, marshmallows, and salt. Cover and refrigerate until ready to serve.
When ready to serve, whip the cream until stiff peaks form. Add cream and pecans to salad, gently folding until evenly combined. Garnish with more mini marshmallows and fresh cranberries, if you wish!
Enjoy!
~Melissa
You may enjoy these related posts: