Print Friendly Version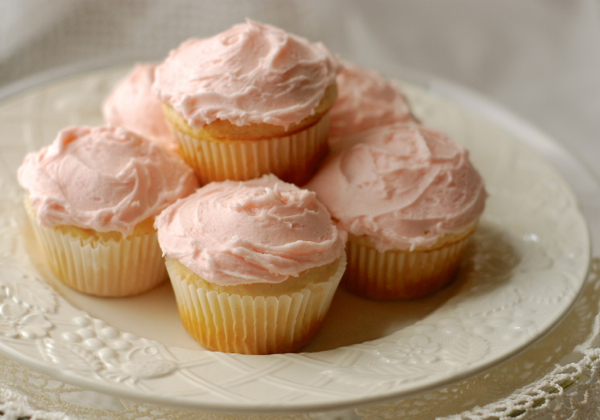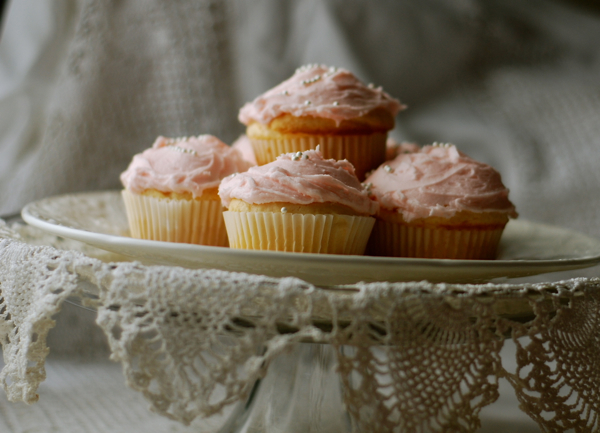 I don't make cupcakes very often because they're so hard to resist. They're definitely a treat I can't have around the house all the time, but some occasions call for this adorable dessert.
Rose water cupcakes are an elegant, more "adult" version of the children's birthday party variety. I just had to make a batch so I could share the recipe with you! They were beautiful with our afternoon tea on Friday. The perfect accompaniment to our Keemun.
If you want to give your sweetie a dozen roses that he or she can gaze at and then eat, this is the Valentine you've been looking for. They're just slightly "rosy" and that pale pink color is so darn pretty!
Enjoy!
~ preheat oven to 350 degrees F. ~
for 16 cupcakes:
1/2 cup unsalted butter, softened to room temperature
6 oz. cream cheese (full fat, no substitutions)
1 cup sugar
2 large eggs, lightly beaten
1/4 cup milk
2 Tablespoons fresh lemon juice OR white vinegar
2 teaspoons culinary rose water
1 drop red food coloring
2 cups all purpose flour
2 teaspoons baking powder
1/2 teaspoon baking soda
Line 16 standard size muffin tin cups with paper cupcake liners.
In the bowl of a counter top mixer, combine the butter, cream cheese and sugar. Mix, using the whisk attachment, until light and fluffy like frosting. Add the eggs, milk, lemon juice, rose water, and food coloring. Mix just until thoroughly combined and smooth, scraping down edges with a rubber spatula as you go. Remove wire whisk attachment and tap it against the side of the bowl to remove as much of the batter as possible.
Mix the dry ingredients together and then add them to the wet ingredients in the bowl. Put the paddle attachment on the mixer. Starting on low, mix just until wet and dry ingredients are combined. Turn it on medium high and mix just until evenly combined and fluffy.
Carefully spoon the cupcake batter into the prepared muffin tins, filling them just below the edge of each tin. The batter will be pretty thick.
Bake in preheated oven for 20 to 22 minutes, or until a toothpick inserted into the center of one of the cupcakes comes out with a couple moist crumbs on it. Remove cupcakes from oven. Cool in pan for 2 minutes. Transfer cupcakes to wire racks to cool completely. Once completely cool, you can either frost them and enjoy them right away, or frost them and place them in a large, airtight container until ready to serve.
for the frosting:
3 cups powdered sugar
1 stick unsalted butter, softened to room temperature
1 to 2 Tablespoons water
2 teaspoons rose water
1 drop red food coloring
Place all ingredients in the bowl of a counter top mixer. Using the whisk attachment, mix until light and fluffy and completely smooth. You may want to add a little more water, 1 teaspoon at a time. if the frosting seems too thick. Frost cupcakes. Add sprinkles or garnish with fresh, unsprayed rose petals, if you wish.
Happy Valentine's baking, Lovelies!
XO,
~Melissa
You may enjoy these related posts: