Print Friendly Version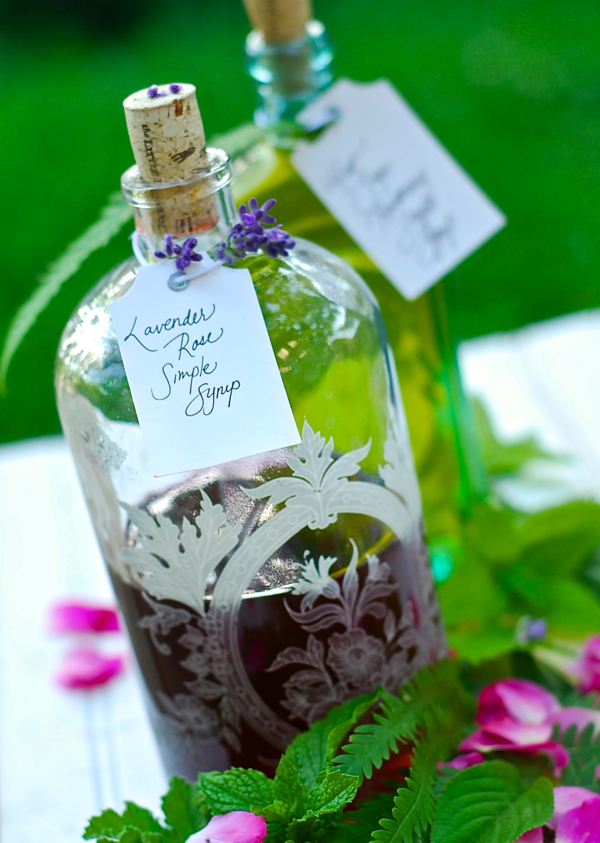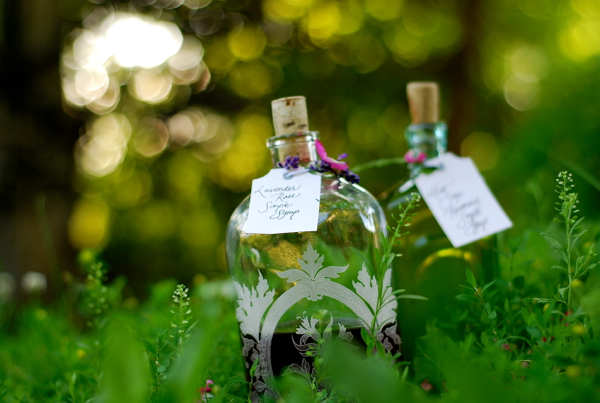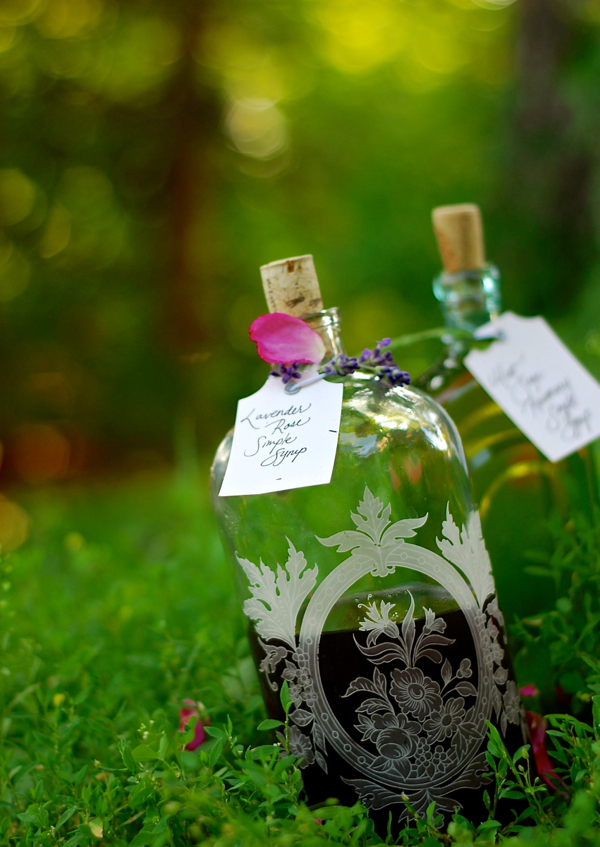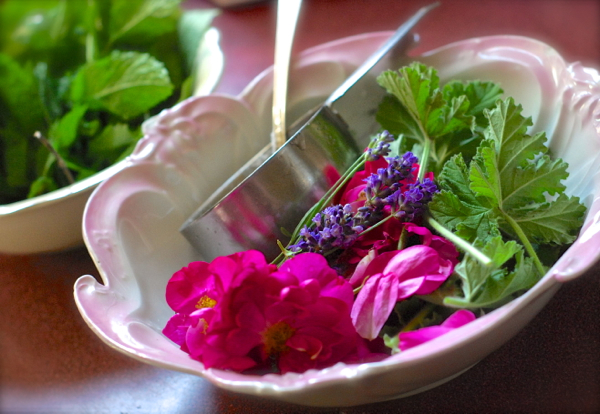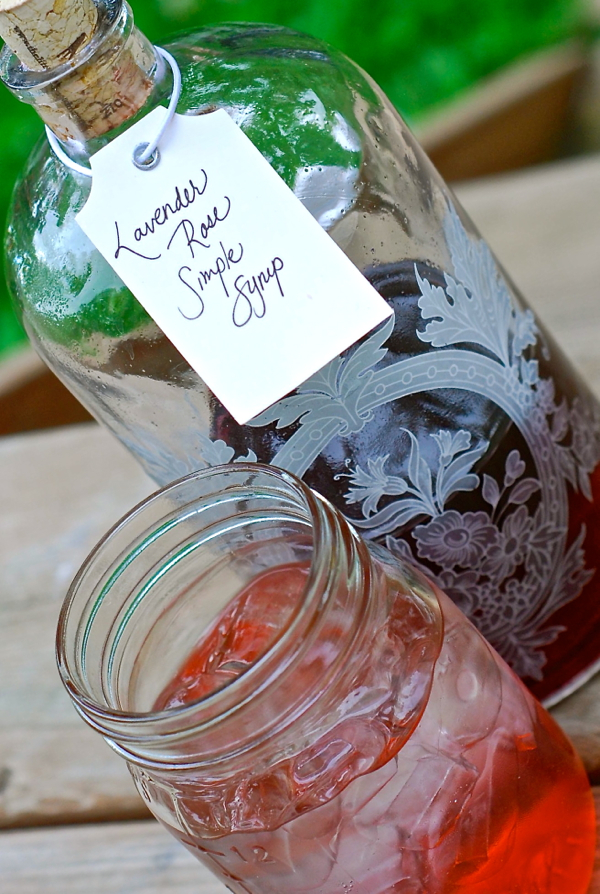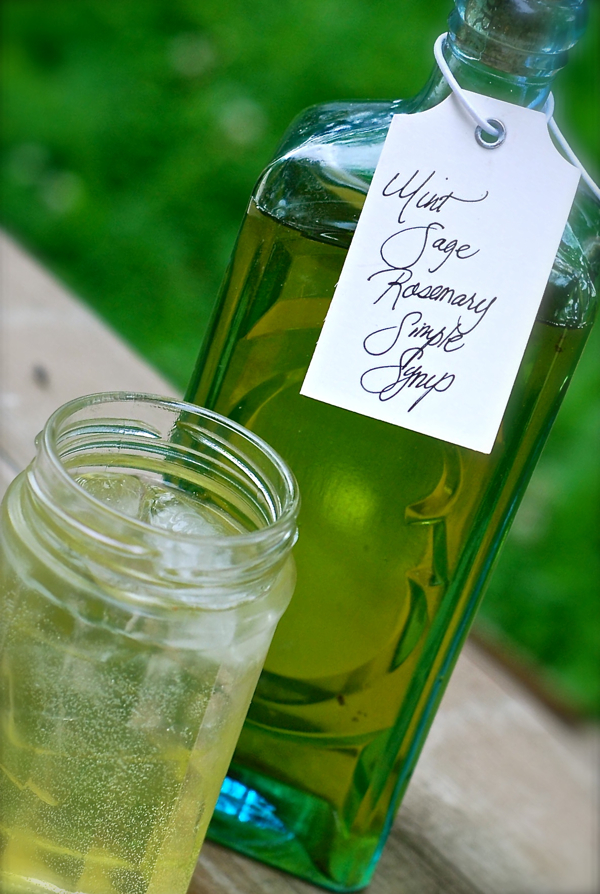 We had so much fun creating these little whimsical libations over our long 4th of July weekend! If you have a flourishing rose garden and herb garden, then you're in business. You could purchase the rose petals and herbs if you need to… Just make sure they're organic and unsprayed, or they could contain pesticides which are bad for you.
I want to make up little jars of these for Christmas gifts. They're pure, bottled summer, I tell ya! Jeff took one sip of the Mint Sage Rosemary Vodka Fizz I made for him and looked so surprised. Truly, these pretty syrups will make your homemade summer sodas and cocktails taste like an exotic garden!
You could make many combinations of herbal and floral syrups, not just the ones I've created. Use your imagination, and have fun making up your own flavors! Wouldn't a row of these gorgeous syrups be beautiful set up on an antique bar or sideboard for a wedding shower, engagement party or summer dinner soiree? Guests could mix their own drinks. Soooo romantic and fun!
You'll want to start with a basic simple syrup… For each flavor, combine in a saucepan:
1 cup purified water
1 cup sugar
flower petals and herbs of choice
Place the saucepan over medium heat and stir the mixture occasionally. You'll want to let it gently simmer for 7 minutes.
For the Mint Sage Rosemary Simple Syrup: I added a large handful of washed, sweet mint, a small handful of washed pineapple sage and 3 large sprigs of washed rosemary to the sugar/water mixture as it simmered. For maximum flavor, mash and muddle the herbs as they cook so they release as much of the essential oils into the syrup as possible. Cool completely and decant into pretty bottles using a funnel. Cap with a cork or screw top… Keep in refrigerator for up to 6 months.
For the Lavender Rose Simple Syrup: I added a large handful of washed, fragrant rose petals, 8 large rose geranium leaves and a small handful of lavender sprigs to the sugar/water mixture as it simmered. Mash and muddle as indicated above. Decant, cap and store as indicated above.
To make herbal/floral sodas:
Mix one part simple syrup to 3 parts club soda
Add a little more syrup if you like sweet soda.
Enjoy over ice
To make floral/herbal fizzy cocktails:
Mix 2 shots simple syrup with 1 shot of vodka over ice.
Top off with club soda.
Add a little more syrup if you like a sweeter cocktail.
Cheers!
XOXO,
~Melissa
You may enjoy these related posts: