Print Friendly Version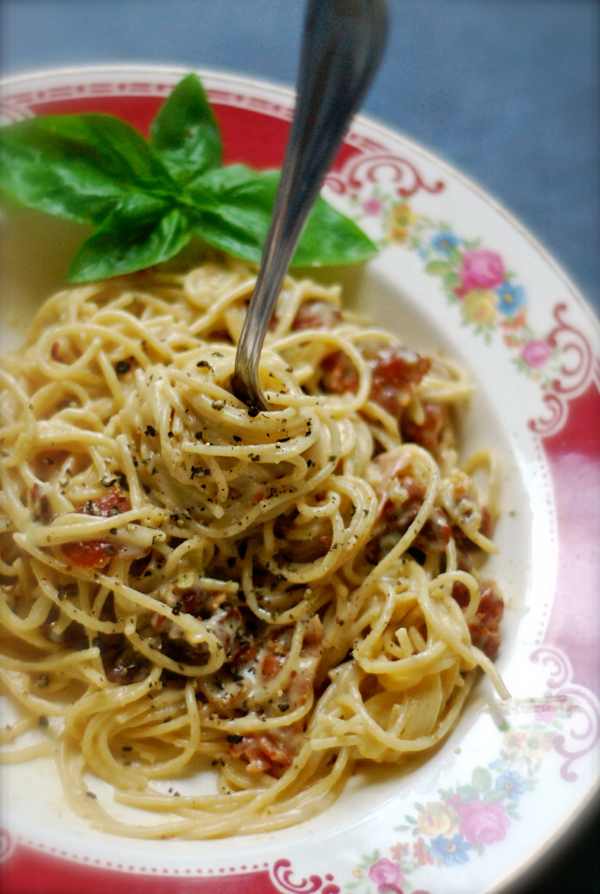 Ever had one of those days when it's pouring rain outside all darn day and you start craving comfort food? A couple nights ago we were experiencing such weather. It was 5 PM and black as night. I decided some creamy, bacony, garlicky (naughty) pasta was in order. I've been staying away from most carbs and breads that aren't either whole grain or gluten free, so this was a particularly decadent treat for me to indulge in. The only thing about this dish that's good for you is the basil garnish. 😉 But twirling that delightful pasta and bacon on your fork and lifting it to your mouth is good for the soul. It's true. Try it and see…
serves 3 hungry people as an entree or 6 as a side dish:
8 to 10 oz. thin spaghetti noodles
2 large eggs, room temperature
1 cup freshly grated Parmigiano Reggiano cheese, room temperature
1/3 cup to 1/2 cup half & half, set out for one hour
6 slices bacon cut into 1 inch pieces
4 large cloves garlic, minced
sea salt and freshly ground pepper, to taste
1/4 cup fresh basil leaves, chopped
The idea is to have everything cooking simultaneously so you can add your ingredients to the very hot pasta. The hot pasta is what's going to cook those eggs. Work quickly so they don't scramble.
Cook pasta according to package directions until al dente. Drain well. Transfer to a large pasta bowl, toss with a little olive oil and cover to keep pasta warm.
While pasta water is boiling, combine eggs, Parmesan and half & half in a medium mixing bowl. Whisk until well combined. Set aside.
Also, while pasta water is boiling, fry up the bacon pieces until crispy. Remove from heat, drain and set aside. Reserve 2 Tablespoons of the bacon drippings and fry up the garlic in the drippings for 1 to 2 minutes until lightly golden and fragrant. Add garlic to the egg mixture.
While pasta is still VERY HOT, toss it with the egg mixture. Once tossed together, add the bacon and chopped herbs. Transfer to 3 serving size pasta bowls, season with salt and pepper and enjoy immediately with a glass of your favorite wine.
XO,
~Melissa
You may enjoy these related posts: