Print Friendly Version
"You'd remember drinkin' horchata
You'd still enjoy it with your foot on masada
Winter's cold is too much to handle
Pincher crabs that pinch at your sandals
Here comes a feeling you thought you'd forgotten
Chairs to sit and sidewalks to walk on
Ooh you had it but oh no you lost it
Lookin' back you shouldn't have fought it…"
~Horchata by Vampire Weekend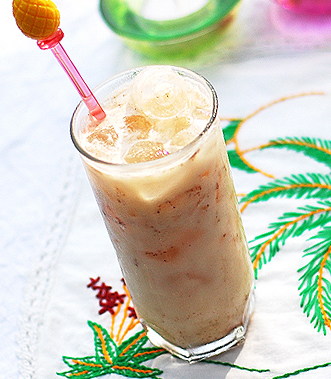 After hearing my new favorite band, Vampire Weekend, sing a song about a beverage called horchata I became curious. What is horchata? So I looked it up and found out it's a rice and milk based drink that's enjoyed in Spain, Mexico, and southern California. I made up a batch over the weekend. It's surprisingly refreshing and pretty easy to make. Gracie absolutely adores it! Try it for yourself!
Horchata
5 cups water
1 cup long grain white rice, uncooked
1/2 cup whole milk
1 Tablespoon Mexican vanilla
1 Tablespoon ground cinnamon
2/3 cup white sugar
Pour the rice and water into the bowl of a blender. It will be quite full. Cover and carefully pulse the blender for about a minute, just to break up the grains of rice a little. Allow rice to sit in the water for 3 hours. Drain the rice water into a glass pitcher or large jar. Discard rice. Add the milk, vanilla, cinnamon and sugar to the rice water. Cover and allow to chill completely before serving over ice.
Some Hispanic bars in southern California use horchata as a mixer in a cocktail known as a
Rice Rocket
2 parts horchata
1 part Malibu coconut rum
dash of Goldschlager
Serve over ice.
Enjoy!
~Melissa
You may enjoy these related posts: