Print Friendly Version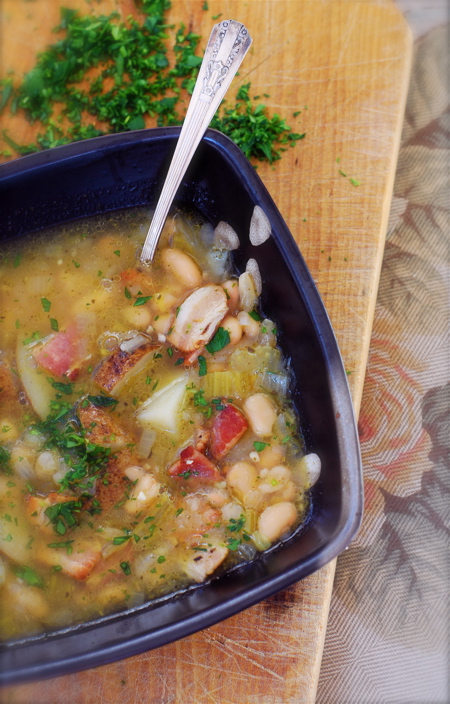 ~ bean & bacon soup ~
A few days ago it got up to 62 degrees here in Red Wing Minnesota. For March, that's kind of strange. We've had unseasonably warm weather all winter, but the first day like that makes me start dreaming about spring. Planting a little garden, dinner on the deck, road trips and picnics. Of course, it didn't last and the next day as I brought out the recycling to the curb there were big snowflakes falling from the sky and the temperature had dropped by 30 degrees.
So, what do I do when it starts snowing? That's right. I make soup.
This is a lovely, easy soup that is a perfect week night meal. We had it with a green salad topped with my homemade buttermilk ranch icebox dressing, homemade bread, and a glass of white wine. This soup takes hardly any time at all to put together, so you'll have more time to play Boggle in front of the fireplace or watch Modern Family, or do whatever it is you like to do in the evening.
3 Tablespoons extra virgin olive oil
1 large onion, chopped
3 celery stalks, chopped including the leaves
2 large cloves garlic, minced
1/2 lb. bacon
2 teaspoons chopped, fresh rosemary
2 (15 oz.) cans Great Northern Beans, drained and rinsed
1 large red potato cut into chunks
4 cups chicken broth
freshly ground pepper
1/4 cup chopped fresh parsley
In a large soup pot, heat oil over medium heat. Saute the onion and celery for 6 minutes. As the onion and celery are softening and cooking, fry up the bacon in a skillet until cooked well, but not too crispy. Add the bacon to the soup pot along with the garlic and rosemary. Cook one minute. Stir in beans, potato and broth. Bring to a boil and then reduce heat to a simmer. Place a cover on the soup pot so it's a little askew, to let out some of the steam as the soup cooks. Simmer for 15 to 20 minutes, or until the soup is heated through and the potato is tender. Salt and pepper to taste. Garnish with fresh, chopped parsley.
Enjoy!
~Melissa
You may enjoy these related posts: