Print Friendly Version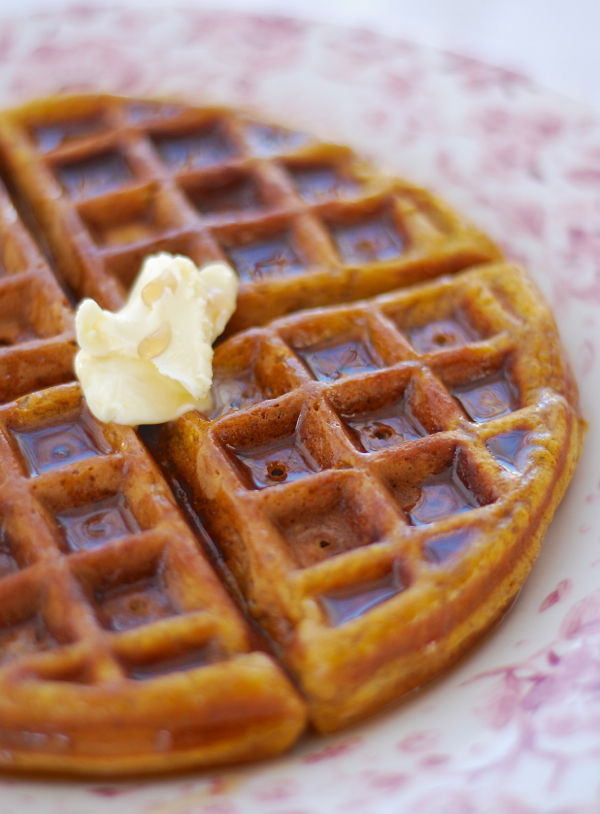 Yesterday at this time I was busy in my kitchen, making the batter for these deliciously spicy and beautifully fragrant waffles. Oh myyyyy, were they ever good! This recipe makes about 8 of the big Belgian waffles, so unless you're having company, you may have enough left over to freeze. To do this, I just put waxed paper between the cooled waffles and place them in freezer-safe ziploc bags. The frozen waffles toast up in the toaster in about a minute and they're such a fun breakfast treat on school days.
We topped our waffles with butter and pure maple syrup for our Christmas breakfast. Fried, applewood smoked bacon and a big pot of Keemun tea were the perfect accompaniments. These are also awesome topped with cider caramel (recipe below), apple butter or Dutch apple jam.
for the waffles:
3 cups all-purpose flour
4 teaspoons baking powder
2 teaspoons ground cinnamon
2 teaspoons ground ginger
1/2 teaspoon nutmeg
tea leaves & spices from one bag chai tea (about 2 teaspoons)
1 teaspoon salt
4 large eggs
2/3 cup packed brown sugar
1 cup pure canned pumpkin puree
1 and 1/4 cups milk
1/2 cup molasses
1 stick melted butter
butter and your favorite toppings
In a large mixing bowl, combine flour, baking powder, cinnamon, ginger, nutmeg, chai, and salt until evenly incorporated. In another mixing bowl, combine the eggs and brown sugar until fluffy. Then add the pumpkin, milk, molasses and melted butter to the butter/sugar mixture. Mix until evenly incorporated. Then mix wet and dry ingredients together just until moistened. Don't overmix batter.
Cook according to manufacturer's directions for your waffle iron. Top with butter and desired toppings.
for cider caramel:
4 cups fresh orchard apple cider
2 teaspoons pure vanilla extract
1/2 cup dark brown sugar
1/4 cup salted butter
coarse sea salt (if desired)
Make the cider caramel before you make your waffles and have it ready to go. It reheats beautifully.
Pour cider in a large, heavy skillet along with the vanilla. Boil until reduced by half (about 2 cups.) This will take 15 to 20 minutes. Add the sugar and butter and cook until  reduced to one and one half cups (another 15 minutes.) Stir frequently with a wire whisk. Drizzle over waffles and sprinkle a little coarse sea salt over if you like salted caramel. Cider caramel is also awesome on pork medallions.
Enjoy!
~Melissa
You may enjoy these related posts: