Print Friendly Version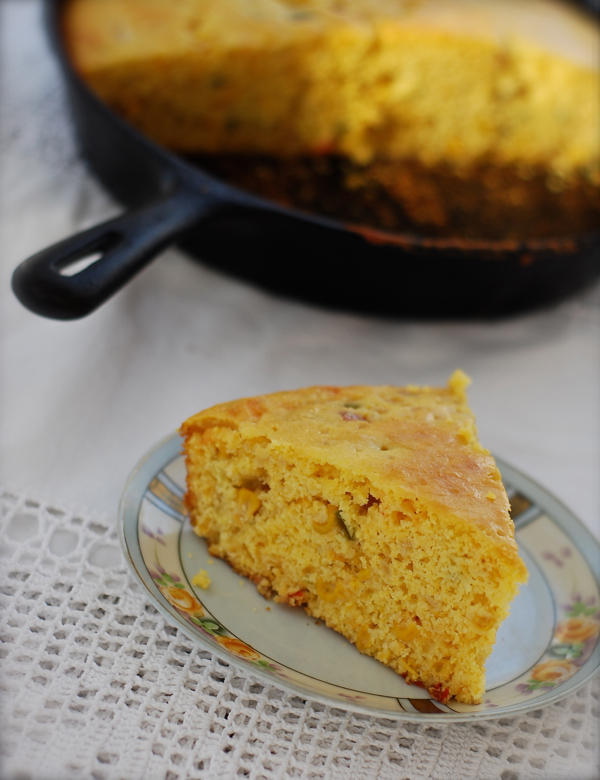 Merry Christmas Eve! I hope you're all enjoying a beautiful holiday with friends and family. I promised a bunch of you this recipe for my easy cheesy jalapeno skillet cornbread to go with that glorious white chili I posted yesterday. This is wonderfully moist, just a little spicy, and perfect cut into big chunks and dunked in that cumin and cilantro laced broth. mmmmmm!
1/4 cup butter
1/2 cup onion, chopped
1 large clove garlic, minced
1/3 cup roasted red pepper, peeled, seeded and chopped
1 large, fresh jalapeno, finely chopped (the more core and seeds you leave in, the spicier it will be!)
1 can whole kernel sweet corn, drained well
1 and 1/2 cups yellow cornmeal
1 cup all-purpose flour
1/2 cup sugar
1 Tablespoon baking powder
1 teaspoon salt
1/2 teaspoon chili powder (optional)
1/2 teaspoon cayenne papper
1 cup milk
1/2 cup plain, greek yogurt
2 large eggs, slightly beaten
1 and 1/2 cups shredded sharp cheddar cheese
Preheat oven to 350 degrees F. Melt butter in 10 inch cast iron skillet. Saute onion, red pepper, jalapeno and corn in the butter until tender (about 5 minutes.) Add garlic and cook an additional minute.
In a large bowl, combine all dry ingredients. Stir in the milk, yogurt, eggs and cheese. Add veggie mixture and mix well. Pour back into skillet and bake for 30 to 35 minutes. Cornbread done when the surface is slightly golden brown and when firm to the touch. Allow to sit for 20 minutes before slicing into wedges and serving.
Enjoy!
~Melissa
You may enjoy these related posts: