Print Friendly Version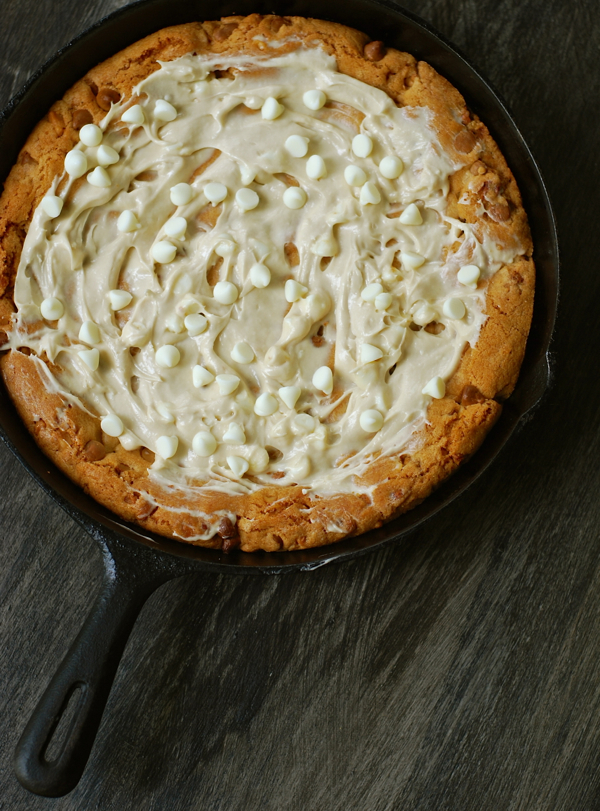 Another skillet cookie for your enjoyment! This one was inspired by one of my favorite desserts at Applebee's restaurant. The Maple Butter Blondie. It offers a lot of the same flavors, but it's easier to make, and it's in cookie, not blondie, form. I think you're going to love this!
for the skookie:
~ serves 12 ~
~ preheat oven to 350 degrees F. ~
1/3 cup unsalted, melted butter
1 cup sugar
1 large egg
2 teaspoon bourbon vanilla extract (I use Trader Joe's)
1/2 teaspoon maple extract
1/2 teaspoon salt
1/2 teaspoon baking powder
1/2 teaspoon baking soda
1 cup all purpose flour
1 cup white chocolate chips, divided
2/3 cup macadamia nuts, chopped
Lightly grease a 10 inch cast iron skillet with vegetable oil.
Melt butter and pour it into a large mixing bowl. Add the sugar, egg and vanilla. Mix well. Add salt, soda, and baking powder. Mix well. Add flour. Mix well. Fold in 2/3 cup of the white chocolate chips and the macadamia nuts. Stir until evenly combined. Press skookie dough into the prepared skillet. Bake for 20 minutes, or just until no longer gooey in the middle. Don't worry if skookie isn't completely set, it will set and harden as it cools. If you like a very crispy cookie, bake a bit longer or until golden brown and hard around the edges (approximately 25 to 30 minutes.)
Cool most of the way and then top with the maple butter cream cheese glaze.
for the maple butter cream cheese glaze:
4 Tablespoons soft butter
2 oz. soft cream cheese
1/4 cup powdered sugar
1 Tablespoon maple extract
1 Tablespoon milk
Whisk all glaze ingredients until smooth. Spread over the top of the skookie and top with the rest of the white chocolate chips. Cut into 12 wedges and serve.
Enjoy!
~Melissa
You may enjoy these related posts: