Print Friendly Version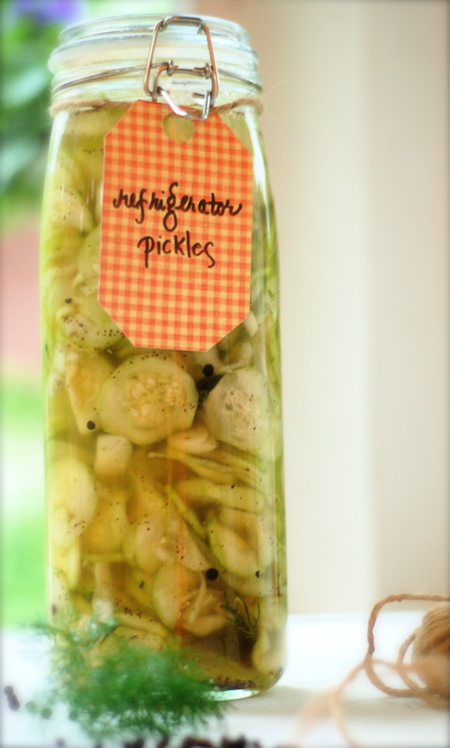 ~ refrigerator pickles ~
My friend Becky gave me a basic refrigerator pickle recipe that I used to create my version. I LOVE dill…and garlic is good in almost everything. I like a lot of pickle juice, so I doubled that without doubling the cucumbers…I did add a few extra though. They turned out SO good. I'm sure there will be a jar in the fridge all summer.
1 cup apple cider vinegar
1 cup white vinegar
2 Tablespoons salt
4 cups sugar
3 teaspoons celery seed
3 teaspoons garlic powder
1 Tablespoon Telicherry peppercorns
4 or 5 fresh dill sprigs
10 cucumbers, peeled and sliced thin (approximately 15 cups)
1 large onion, peeled and sliced thin
Mix vinegar, salt, sugar, celery seed, garlic and peppercorns in a saucepan. Bring to a boil, stirring constantly just until sugar and salt are dissolved. Remove from heat and allow to cool while you peel and slice the cucumbers and onions. Place peeled and sliced cukes and onions in a large, nonreactive bowl. Pour the vinegar mixture over. Stir until everything is combined. Add the dill sprigs. Push everything under the liquid. Cover and allow to sit on the counter at room temperature for six hours. Transfer to a large sterilized jar (I just wash mine in the dishwasher so it's ready when the pickles are.) Cover tightly and keep in the fridge until you're ready to serve them.
Enjoy!
~Melissa
You may enjoy these related posts: