Print Friendly Version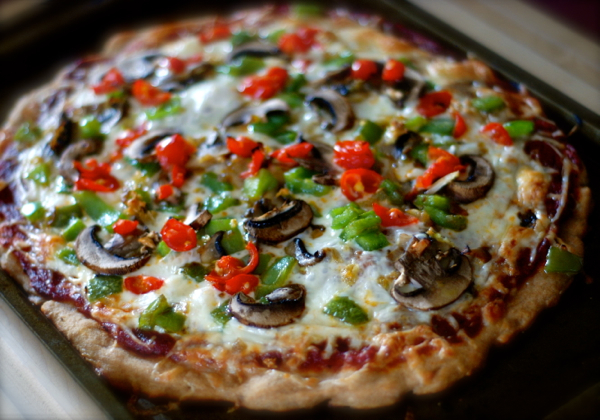 Gracie made pizza!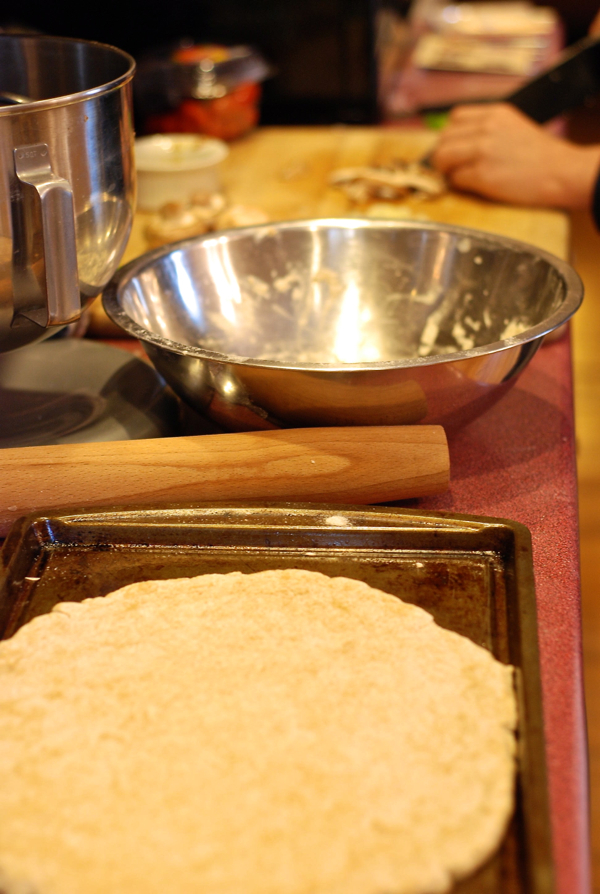 She started with a super simple, 3 ingredient crust…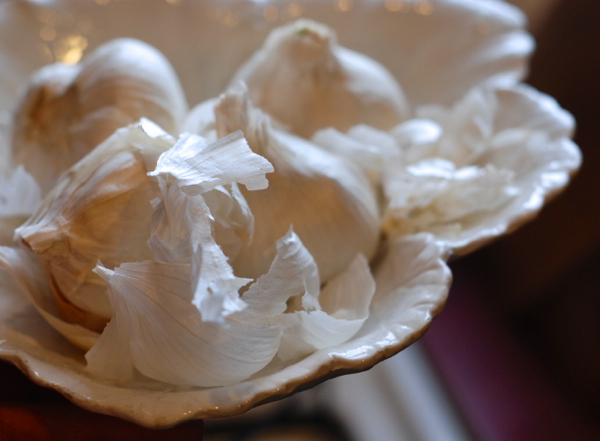 sauteed garlic and veggies…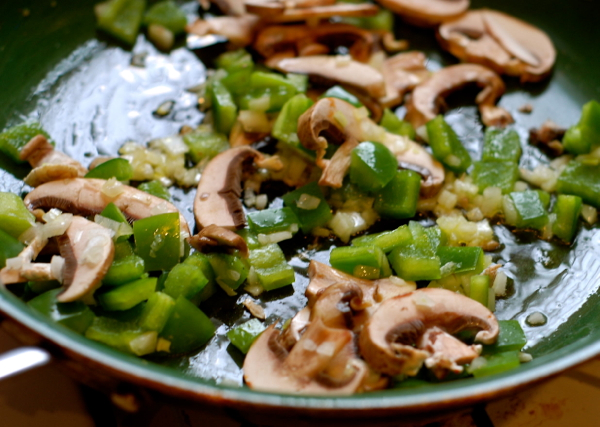 made up her own recipe for sauce…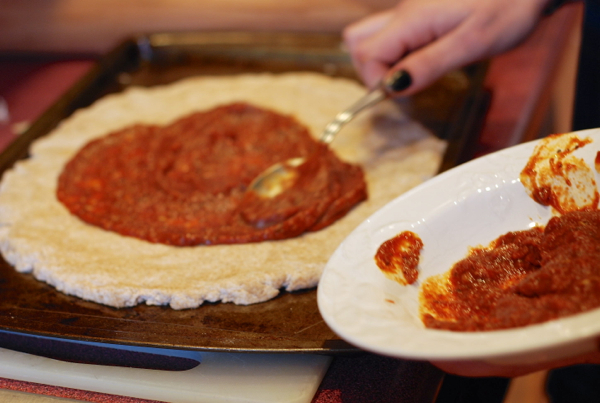 was liberal with the shredded mozzarella…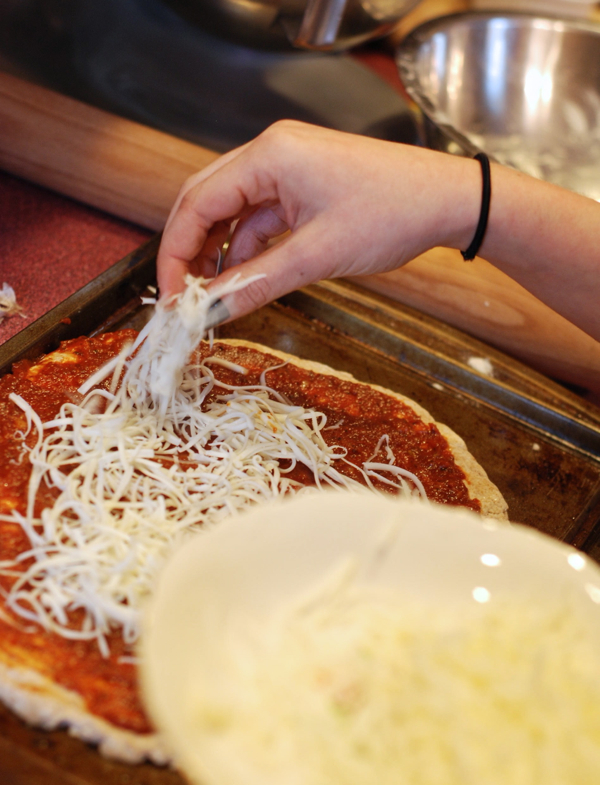 yum!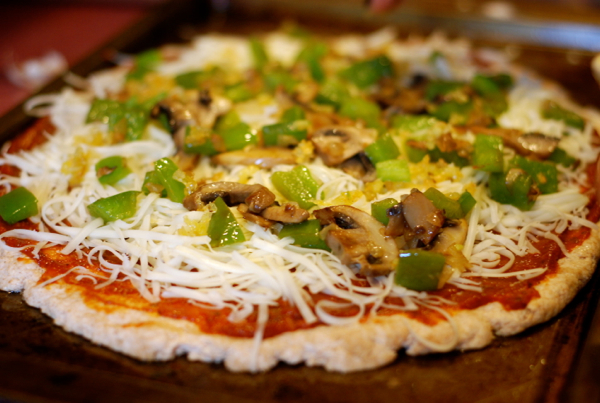 My daughter Grace has done it again! She's been busy in the kitchen, this time creating her own recipe for healthy, easy pizza. This particular pizza yields a soft, chewy crust. If you like your crust a little more crunchy, simply pre-bake the crust for 5 minutes on the baking sheet, carefully remove it from the baking sheet, top it and then put the pizza directly on the oven rack to bake the rest of the way.
If you're in a big hurry to eat, you can use pre-made, jarred pizza sauce. Gracie's pizza sauce is AMAZING, so if you have the time to devote to making it, it's totally worth it.
~ for 1 (10 inch) pizza ~
~ preheat oven to 450 degrees F. ~
Grace's 3 Ingredient Whole Wheat Pizza Crust:
1 cup whole wheat flour
1 cup plain greek yogurt
1 and 1/2 teaspoons baking powder
Mix all ingredients in a mixing bowl until dough forms. Transfer to a lightly floured surface and knead about 5 turns. Dough should be tacky but not totally sticky. Add a little more flour, if needed.
Generously oil a pizza pan or small metal baking pan with olive oil. Form into a 10 inch pizza crust. (Grace formed her crust into an oblong oval.) Set aside and make your sauce and toppings.
Grace's Pizza Sauce:
(enough sauce for 2 pizzas)
2 Tablespoons olive oil
1/4 cup finely chopped onion
3 large cloves minced garlic
1 (15 oz.) can tomato puree
1/4 cup tomato paste
2 Tablespoons balsamic vinegar
2 Tablespoons dry Pizza seasoning/Italian seasoning
1 Tablespoon onion powder
1 Tablespoon sugar
1 Tablespoon fennel
2 teaspoons garlic powder
1 teaspoon salt
1 teaspoon red pepper flakes
Brown the chopped onion in the olive oil. Once onion is slightly browned and soft, add the garlic. Cook 1 minute. Then add: tomato puree, tomato paste, vinegar, pizza seasoning, onion powder, sugar, fennel, garlic powder, salt and red pepper flakes. Reduce heat to low and cook for 30 minutes, stirring frequently. Add a little water or a splash of red wine if the sauce gets too thick.
While the sauce is simmering, saute any veggies you'll be using in a little olive oil in a skillet. Grace used: 5 sliced baby bella mushrooms, 1/4 cup onion, 1/4 cup chopped green bell pepper, 6 chopped grape tomatoes and 4 large cloves of garlic.
When the sauce is done, spread about half of it on the pizza. Top sauce with 8 oz. shredded, part skim Mozzarella cheese and desired toppings.
Place pizza in preheated 450 degree oven and bake for 10 to 20 minutes or until cheese is melty and golden brown, crust is done and pizza is completely hot all the way through.
Enjoy!
~ Grace and Melissa
You may enjoy these related posts: