Print Friendly Version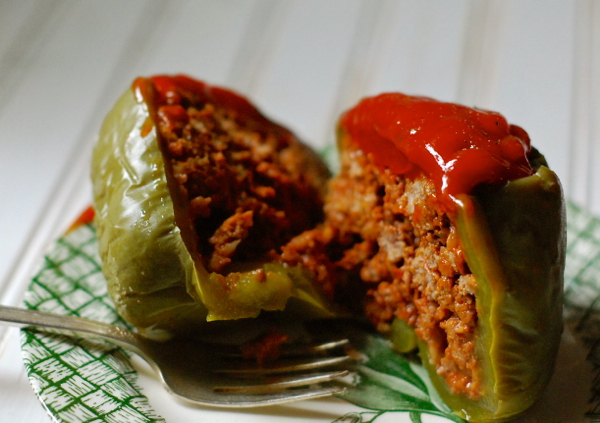 I made these delicious, easy stuffed green peppers yesterday and boy oh boy, were they ever a hit! It's not a recipe I make super often, but when the craving strikes, nothing else will do. If you like stuffed green peppers and are looking for some fun twists on this recipe, you may also want to try my Cheesy Nacho Chicken Stuffed Bell Peppers, and my Stuffed Green Pepper Soup.
The recipe below is the classic, mom food you grew up with. You can use white rice or brown rice, orrrrrr you can do what I did this time and saute 1 cup of finely chopped cauliflower when you saute your onion and garlic. I honestly didn't miss the rice one bit! Gracie and Jeff absolutely loved these. We enjoyed our stuffed peppers with a simple, tossed salad.
serves 4:
4 large, green bell peppers, washed and dried
1 lb. lean ground beef
2 Tablespoons olive oil
1 medium onion, chopped
1 cup cauliflower, finely chopped (omit if using rice)
2 large garlic cloves, minced
1 cup cooked white or brown rice (omit if using cauliflower)
1 Tablespoon Worcestershire sauce
1 large egg, lightly beaten
6 oz. tomato paste
1 Tablespoon honey
2 teaspoons hot sauce
1/2 teaspoon Lawry's Seasoned Salt
1/2 teaspoon freshly ground black pepper
organic ketchup for topping
Cut the tops off of the peppers, remove stems and reserve tops for another use (I just chop them up and freeze them for soups and casseroles.) Remove seeds from peppers and discard. Set peppers aside.
Heat the olive oil in a large skillet. Once hot, saute the onion and cauliflower (if using) until golden and onion is soft and translucent. Add minced garlic and saute an additional minute. Place onion mixture in a large mixing bowl.
Using the same skillet, brown your ground beef a bit, not too much, you still want quite a bit of pink meat. Drain if necessary. Place the ground meat into the mixing bowl. Add the cooked rice (if using), Worcestershire sauce, egg, tomato paste, honey, hot sauce, seasoned salt and pepper. Mix well. Stuff peppers with this mixture. Place peppers in a Crock Pot/slow cooker and top each with a couple Tablespoons of organic ketchup. Cover slow cooker and cook peppers on LOW for 6 hours or HIGH for 3. Peppers are done when they're very soft and tender and the meat mixture is very hot all the way through. Serve.
Enjoy!
~Melissa
You may enjoy these related posts: