Print Friendly Version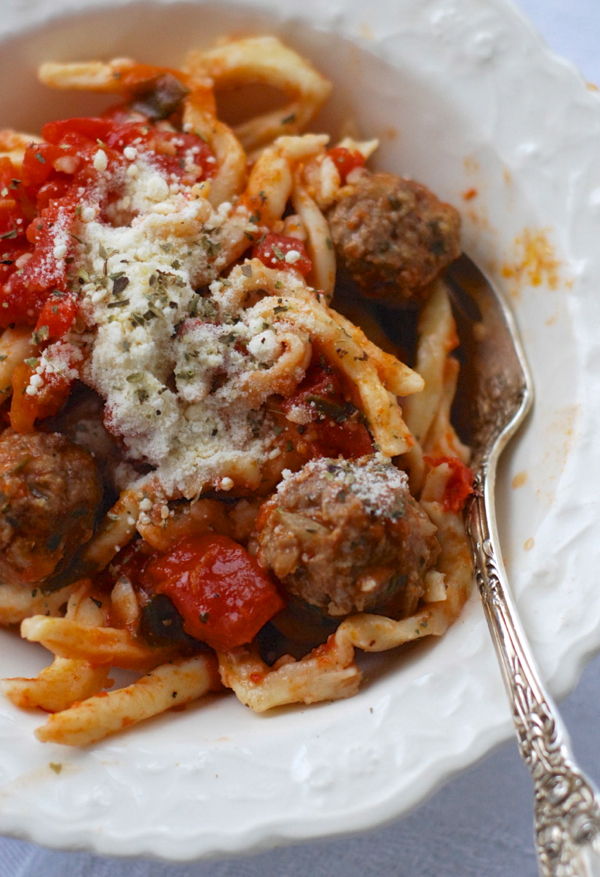 Our daughter, Grace, has been taking a Culinary Arts class in school and brought home these incredible noodles the other day. Oh MY! So darn good. Definitely some of the best hand-rolled, hand-cut noodles I've ever had. And the sauce! Simple and perfect. You're going to love this!
for homemade/ hand-cut noodles:
1 and 1/2 cups all purpose flour
1/4 teaspoon salt
1 whole egg + 2 Tablespoons egg (lightly beaten)
1 Tablespoon olive oil
3 Tablespoons water
Stir flour and salt together in a large bowl. Pour out onto a clean countertop and make a well in the center of the flour. Add eggs, oil and water. Work liquids into the flour, using a fork, to create a soft dough. After combined, knead dough for 5 minutes (until soft and smooth.) Cover dough with a damp, clean towel and allow it to rest for 10 minutes. Cut dough into 4 quarters; roll each quarter into a very thin rectangle. Fold rectangles into thirds or fourths. Slice folded dough into 1/4 inch-wide strips. Unwind strips. Bring a big pot of water to boil. Add pasta. Boil for 2 to 3 minutes. Drain well. Serve with homemade tomato garlic sauce (recipe below.)
for homemade tomato garlic sauce:
1 and 1/2 lb. canned tomatoes (whole, crushed)
3 cloves fresh garlic, minced
3 teaspoons extra virgin olive oil
3 teaspoons chopped, fresh basil
3 teaspoons tomato paste
salt, pepper and Parmesan cheese (to taste)
prepared, warmed meatballs, (optional)
Heat crushed tomatoes + juice from can, in a sauce pan. Cover to keep warm.
Heat the olive oil in a skillet. Once hot, add garlic. Cook approximately one minute, until fragrant, but not browned. Stir in tomato paste. Immediately stir in tomatoes from the saucepan, salt and pepper. Simmer until heated through. Add basil and serve over prepared pasta. Garnish generously with Parmesan cheese and meatballs (if you wish).
Enjoy!
Gracie and Melissa
You may enjoy these related posts: