Print Friendly Version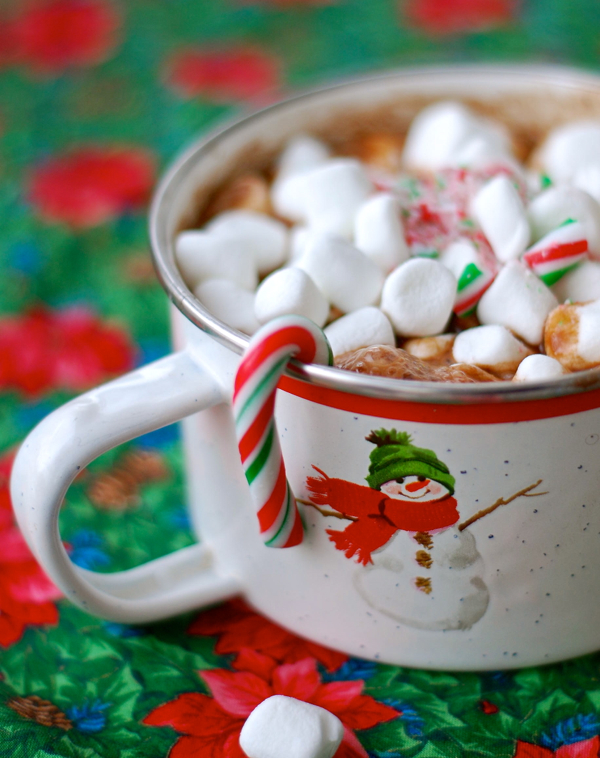 'Tis the season for sipping warming drinks in front of a crackling fire and listening to Christmas carols while snow falls gently outside. We love cocoa and I have a few yummy recipes that are especially nice to indulge in this time of year.
If you like the combination of creamy, homemade cocoa laced with peppermint, you've come to the right place. I've included an "adult" version below that easily becomes a drink for all ages when you substitute the peppermint schnapps with pure peppermint extract.
for one large mug of candy cane cocoa:
1/4 cup sugar
3 rounded Tablespoons unsweetened cocoa powder (I use Hershy's or Ghirardelli)
pinch of sea salt
1 and 1/4 cups whole milk
1/4 cup half & half
1/2 shot peppermint schnapps OR 1/4 teaspoon pure peppermint extract
1/8 teaspoon pure vanilla extract
mini marshmallows and/or sweetened whipped cream
1 Tablespoon crushed candy cane
1 mini candy cane for garnish
In a large mug, combine: sugar, cocoa powder, and salt. Mix until evenly combined. Heat the milk and half & half in a small saucepan until gently simmering. Slowly mix the milk into the cocoa mixture. Stir well. Add peppermint schnapps/extract and vanilla. Stir well. Top with marshmallows and/or whipped cream. Sprinkle the crushed candy cane over the top and garnish the mug with a mini candy cane. Enjoy!
Cheers!
~Melissa
You may enjoy these related posts: