Print Friendly Version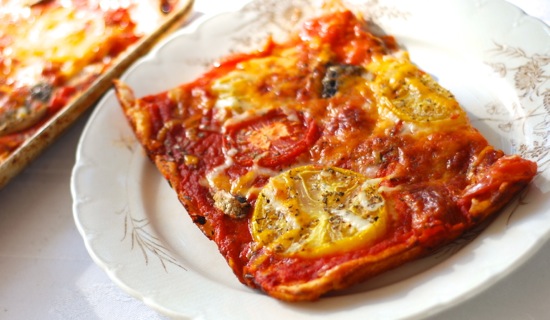 Hello Lovelies! I'm enjoying a relaxing morning in front of our fireplace with my tea. Headed out for a walk here in a few minutes, but I just had to write to tell you about this amazing pizza we had a couple days ago. This recipe would be perfect for a day when you're just hanging out at home. I topped ours with some thinly sliced yellow brandywine heirloom tomatoes, fresh mushrooms, THIS sauce, and a blend of shredded mozzarella and sharp cheddar cheeses. Feel free to use whatever toppings you like best. The recipe yields a wonderfully chewy, soft crust pie. It reminds me of school lunch pizza. (Which I loved!) Oh, and the only downfall with this pizza is that the crust doesn't hold up that well for leftovers, so only make what you and your clan are going to eat the same day.
~Heat oven to 425 degrees F~
for the crust:
2 cups self-rising flour
2 cups whole milk Greek yogurt
extra flour for dusting
In a big bowl, combine the flour and yogurt until a ball of dough forms. On a lightly floured surface, knead the dough for 8 minutes. Oil a large jellyroll pan (a baking pan with edges that measure about an inch in height) Carefully spread the dough out on the pan. If the dough doesn't seem to be cooperating, just let it rest for about 10 minutes. You should be able to evenly spread the pizza dough to the edges of the pan. Top with your favorite pizza sauce, toppings and cheese. I always sprinkle the tops of our pizzas with a couple cloves of fresh, minced garlic, onion powder, fresh herbs (if I have them on hand) or dry pizza seasoning and freshly grated Parmesan (this little trick even makes cheap, frozen pizzas taste good!) Bake at 425 degrees F for 20 minutes. Turn the oven down to 300 degrees F and cook an additional 10 minutes or until crust is browned on bottom and pizza is hot when you touch it in the center.
Cut into 8 big rectangles and enjoy!
~Melissa
You may enjoy these related posts: