Print Friendly Version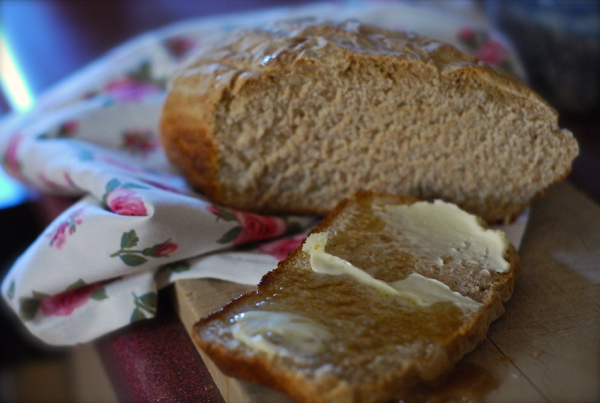 Another snow day and another fun day spent with my girls. Andie brought the Princesses over again today, and we all munched on malted milk waffles (recipe coming soon!) for breakfast… and THIS salad for lunch (with a few renditions…even the little ones liked it!) We vegged out, had tea, and binge-watched programs on the food network. These last couple days have felt like a mini vacation.
Now I'm deciding what to make for dinner…. but, before I go do that, I'll share this delicious, easy recipe for breakfast bread with all of you. This is a loose rendition of a recipe I found in my new Kinfolk Table cookbook. I used some whole wheat flour in place of white flour in an attempt at creating a healthier bread. It did turn out really good, but it didn't rise like the one in the book. So, if you want a lighter, fluffier loaf, just use all white flour.
yield: 1 loaf
1/2 cup whole milk, warmed to 110 degrees F
1/2 cup water, warmed to 110 degrees F
1 packet active dry yeast
1 cup whole wheat flour
2 and 1/3 cups unbleached, all-purpose white flour
2 Tablespoons honey (I used avocado honey! thanks, D!)
2 Tablespoons butter, room temperature
2 teaspoons sea salt + more for sprinkling
1 large egg, room temperature
1 large egg yolk, for brushing the top
the night before:
Line a 9 x 5 loaf pan with cooking parchment. Mix milk, water and yeast in a small bowl. Allow this mixture to stand at room temperature for 10 to 15 minutes (until foamy.) While the yeast proofs, combine the flours, honey, butter, 2 teaspoons sea salt, and the whole egg in a large mixing bowl until well combined. Add the yeast mixture. Mix well. Knead for 15 minutes by hand, or place in the bowl of a table-top mixer (such as a Kitchen Aid) and mix with dough hook for 8 minutes. Place kneaded dough in a buttered bowl. Cover with plastic wrap, and allow to rise in a warm place for 1 hour (or until doubled in size.) Shape dough into an oval, place in parchment-lined pan, cover it with the plastic wrap again, and allow it to rest in the refrigerator overnight.
the next morning:
~ preheat oven to 425 degrees F. ~
Position rack in center of oven. Make slits in the top of the loaf using a very sharp knife. Whisk yolk and brush it over loaf. Sprinkle a little sea salt over the top. Place bread in oven. ***Using a spray bottle, generously spray the inside of the oven with water (be careful not to get too close to the oven while doing this or the steam could burn you.) Close oven and bake for about 30 minutes, or until loaf is golden and sounds hollow when tapped. Transfer loaf to a cooling rack and cool for 15 to 20 minutes before slicing and serving. Serve warm with butter and your favorite jam.
*** Note ~ Adding water to the oven creates a steamy environment for the bread so the crust doesn't dry out too quickly. This will produce a taller, fuller loaf.
Enjoy!
~Melissa
You may enjoy these related posts: