Print Friendly Version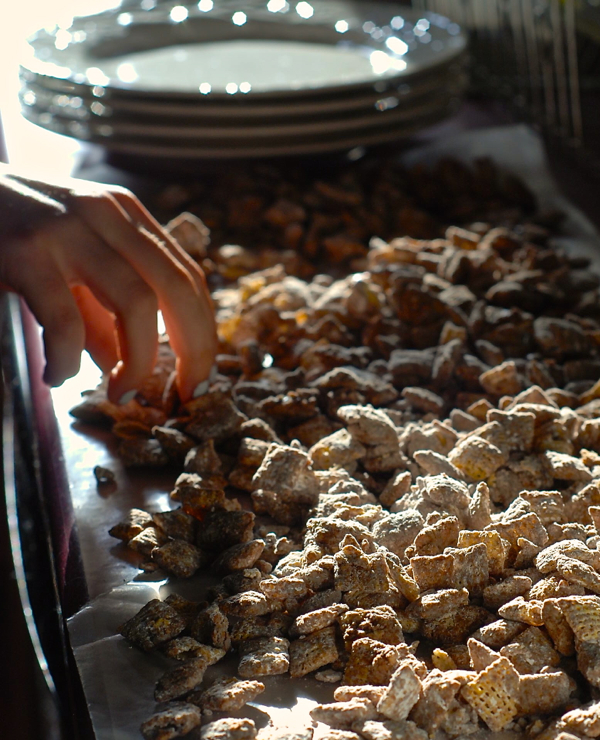 Happy weekend, Friends. After spending a couple days at the end of this past week working on recipes for The Captain's Table challenge, I am ready to just sit back and relax. We talked about my blog and website for a couple hours this morning and then went out for a yummy, casual lunch. Now we're home again and I'm sharing a few Super Bowl recipe ideas on facebook to inspire last minute shoppers. I'm also posting this little number, just in case you still need an easy, sweet treat that will travel well.
These are definitely not health food and most certainly not low fat. They are delicious and chocolaty and fun if you want to splurge on calories. Kids love them and they always disappear in a flash.
5 cups dry Rice Chex cereal
4 cups dry Corn Chex cereal
1 heaping cup semi-sweet chocolate chips (we use Nestle)
1/2 cup creamy peanut butter
1/4 cup real butter
1 teaspoon pure vanilla extract
1 and 1/2 cups powdered sugar
Place the dry cereals in a large mixing bowl and set aside. In a 2 quart microwave-safe bowl, microwave chocolate chips, peanut butter and butter, uncovered on High for 1 minute. Stir. Microwave about 30 seconds longer or until mixture can be stirred smooth. Stir in vanilla. Pour chocolate mixture over cereal. Stir gently until evenly coated. Add powdered sugar. Gently stir until the cereal pieces are evenly coated. Separate and spread out on waxed paper to cool. Once completely cool, store in airtight container in refrigerator.
Enjoy!
~Melissa
You may enjoy these related posts: