Print Friendly Version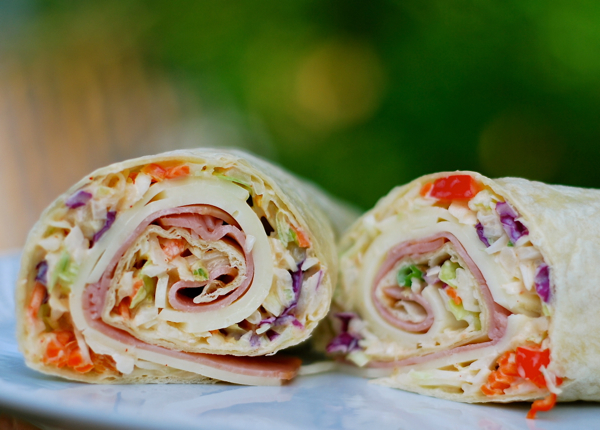 Everyone loves my original Crunchy Ham Wraps, and my Crunchy Turkey Swiss Wraps so much that I decided to create a new one! This time with a Hawaiian twist!
You're going to love the addition of coconut, pineapple, ginger, and other spices in the crunchy slaw! It really brings out the delicious flavors of the ham and provolone.
These wraps are addictive, and perfect for a picnic or tea party lunch with friends!
for the wraps:
big "burrito" size flour tortillas or sandwich wraps
thinly sliced deli honey ham
thinly sliced provolone cheese
for the tropical slaw:
1 lb. shredded coleslaw mix, or hand shredded cabbage
1/2 cup shredded, unsweetened coconut
1/2 cup shredded or julienne carrot
8 oz. pineapple chunks, drained very well and chopped
1/4 cup chopped red bell pepper
5 green onions, chopped (including green tops)
Place all slaw ingredients in a large bowl. Mix well.
for the tropical slaw dressing:
1/2 cup real mayonnaise
1 Tablespoon Dijon mustard
3 Tablespoons apricot preserves
1 Tablespoon fresh ginger, finely grated
1/2 teaspoon smoked paprika
a pinch of ground cloves
freshly ground pepper, to taste
Mix dressing in a small bowl, using a wire whisk until smooth. Pour over slaw. Toss to combine.
Place tortillas on plates. Top each with approximately 1/2 cup of slaw, spreading it evenly over the tortilla. Place a layer of provolone cheese over the slaw, followed by a layer of ham. Wrap tightly and evenly, cut in half on the diagonal, and secure each wrap half with a toothpick or bamboo skewer.
Enjoy!
~Melissa
You may enjoy these related posts: