Print Friendly Version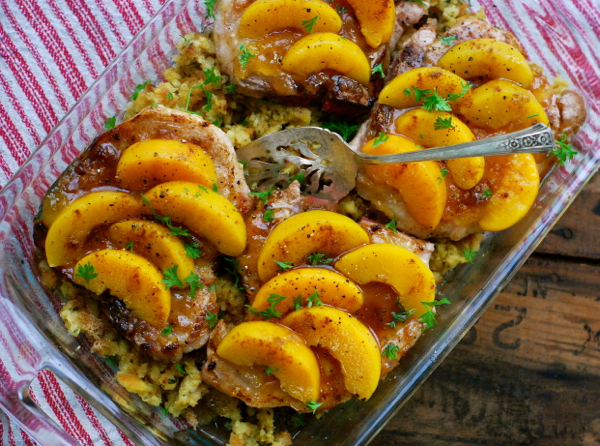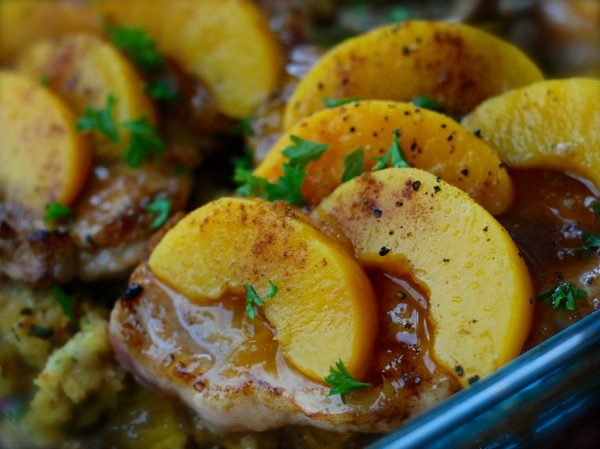 I've been craving this dish for a couple weeks. It's one of the ways I know autumn is coming. This longing for warm comfort food. I hardly ever eat convenience foods, but one of the exceptions I make is for Stove Top stuffing once or twice a year. Another exception I make is for the big bag of seasoned tater tots that go in my annual pan of tater tot hot dish. No matter how wonderfully I'm eating the rest of the year, these are two things that happen. I have some other guilty pleasures too. The rare Oreo cookie or Nut Goodie candy bar. Some treats must remain constant, wouldn't you agree?
Anyway, this recipe calls for Stove Top stuffing. I either use the lower sodium kind or the whole wheat. If you absolutely can not fathom putting such a thing on your grocery list, then please feel free to make up a batch of your favorite homemade stuffing (You'll need about 3 cups). I've made homemade stuffing using Ezekiel bread before and it was wonderful. Nothing at all like Stove Top, but very good, and guilt free.
1 (6 oz.) box lower sodium OR whole wheat Stove Top Stuffing mix
1/2 cup peach preserves (I use Polaner All Fruit)
4 big, thick pork chops
2 Tablespoons olive oil
1 Tablespoon Worcestershire sauce
8 oz. canned peach slices in juice, drained
1/4 cup brown sugar
1 teaspoon pumpkin pie spice
fresh parsley, chopped
salt and pepper, to taste
Make stuffing according to package directions, decreasing the water called for by 1/4 cup and adding 1/4 cup of the peach preserves in it's place. Spoon prepared stuffing into the bottom of a 9×13 glass baking dish or large casserole pan.
Heat olive oil in a skillet until shimmering. Sear chops until browned on both sides but not completely cooked through. Add the Worcestershire sauce to the pan as the pork chops cook. This will give them a pleasing, golden brown color and will deepen the flavor of the seared meat.
Arrange chops over stuffing in pan. Spoon remaining preserves over chops, followed by the peach slices. Sprinkle approximately 1 Tablespoon of brown sugar over each piece of meat, followed by the pumpkin pie spice and parsley. Cover pan with foil and bake in preheated oven for 45 to 60 minutes, or until chops are done all the way through and tender. Salt and pepper, to taste.
Enjoy!
~Melissa
You may enjoy these related posts: