Print Friendly Version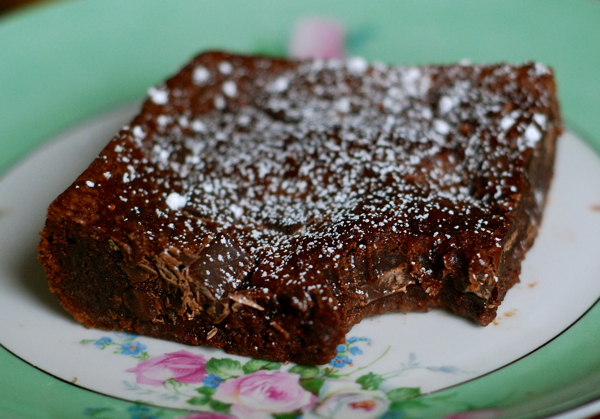 These brownies are super fudgy, rich, and chocolaty. Perfect for when the chocolate craving strikes. On top of being completely delicious, they're easy to make and only call for 4 ingredients! Yes! Only 4.
If you want to make these vegan, it's very easy. Just use plain, unsweetened soy milk when making the instant pudding, and use vegan chocolate chips. Nestle makes allergen free chocolate chips that are vegan, and so does "Enjoy Life." You can usually find the Nestle ones down the baking aisle, and the Enjoy Life chocolate chips down the gluten free aisle at your grocery store. I've ordered the Enjoy Life chocolate chips from Amazon too.
Get ready to make some delicious, easy brownies!
1 (3.9 oz.) box instant chocolate pudding mix
milk (to make the pudding)
1 box chocolate cake mix
2 cups chocolate chips
powdered sugar for dusting over tops of brownies (optional)
Prepare pudding according to package directions. Fold in the cake mix until moistened. Fold in chocolate chips. Batter will be thick. Don't over mix. Spread evenly into a buttered 9X13 baking dish.
Bake at 350 degrees F. for 30 to 35 minutes. Just until set. We like our brownies gooey, so we usually bake them for a little less time. They will set up a bit more as they cool.
Dust with powdered sugar if you wish.
Enjoy!
~Melissa
You may enjoy these related posts: