Print Friendly Version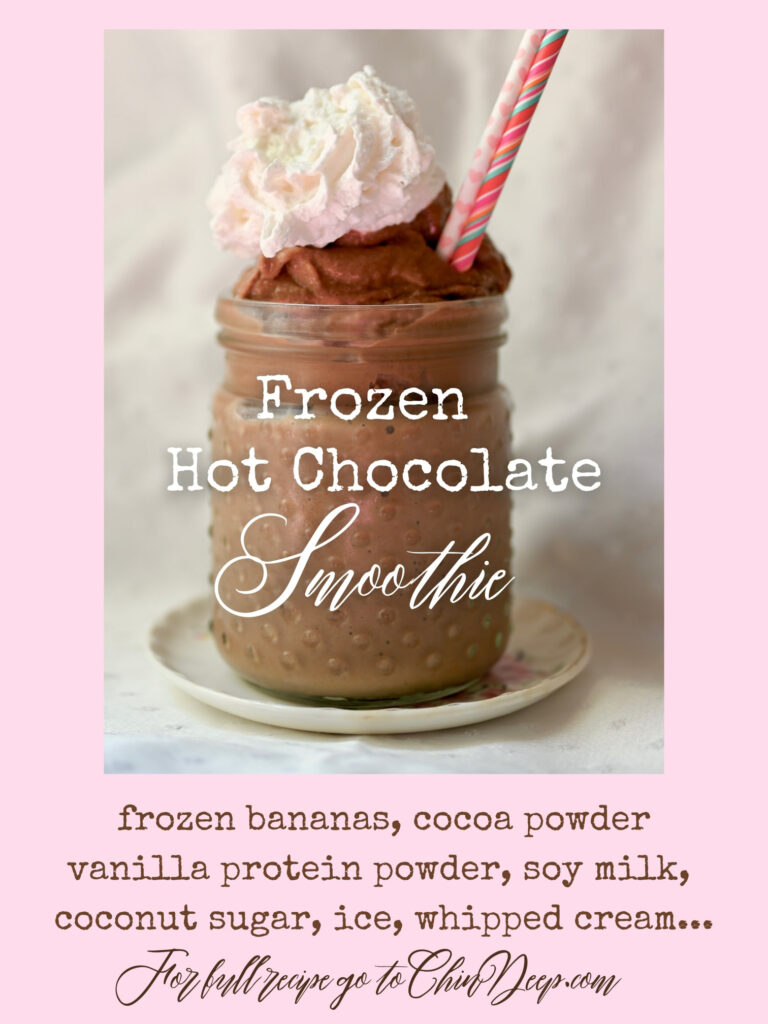 Do you love frozen hot chocolate? I first discovered it at Dairy Queen years ago. And then, after watching the movie Serendipity, I was in love with the giant goblets of the stuff portrayed in a quaint, romantic setting. I decided to recreate a copycat version of the rich, chocolaty, icy treat.
Well, guess what? I've come up with a way to have frozen hot chocolate for breakfast or lunch! It's a smoothie, but you can just pretend it's an ice cream treat. 😉 I won't tell anyone.
Add a scoop of your favorite vanilla or chocolate protein powder to make your frozen hot chocolate smoothie a good source of protein that will fill you up until your next meal. I topped mine with coconut Redi Wip to be festive. You could add rainbow candy sprinkles and a drizzle of chocolate syrup, or chocolate curls, if you want to be extra fancy.
2 large, frozen bananas
3 Tablespoons unsweetened cocoa powder (or more, to taste)
1 scoop vanilla or chocolate protein powder (I love Vega, vegan protein)
3/4 cup to 1 cup vanilla soy milk (or other plant milk)
a little coconut sugar or pure maple syrup added for sweetness (if needed)
a large handful of ice (1/2 cup to 1 cup)
pinch of salt
Place all in the bowl of a high speed blender. Blend one to two minutes until very smooth, thick, and creamy. Transfer to a large glass or canning jar and top with your choice of toppings. Serve with a cute straw and sundae spoon.
Enjoy!
~Melissa
You may enjoy these related posts: