Print Friendly Version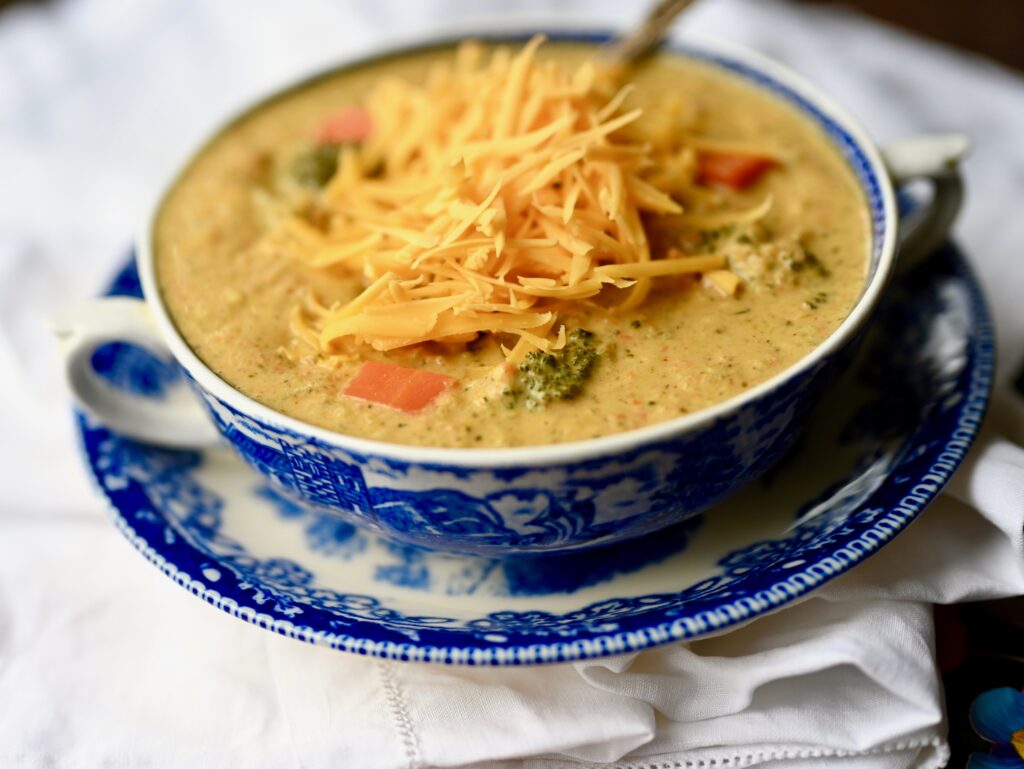 This soup is cheesy, rich, and smooth with big chunks of veggies added at the end. If you want it to be totally smooth, just puree all the veggies at once. It's totally a matter of preference.
What I love about this soup is that it's healthy and cheesy even without adding any vegan cheese. That's due to the magic of nutritional yeast. It lends a rich, umami flavor without actually using a fatty cheese. It's amazing!
Make up a pan of dinner rolls, or heat up a baguette to serve with your cheesy broccoli soup. So good!
Follow the link for instructions on how to make your own cashew cream. If you'd rather use vegan cream cheese, it would definitely work, but I would recommend using Tofutti or Trader Joe's brand and not Daiya for this.
1/4 c. vegan butter for sauteeing (optional)
4 c. chopped onion
6 to 7 cups steamed broccoli
2 cups peeled, sliced carrots
5 large garlic cloves, minced
5 cups veggie stock
1/2 teaspoon turmeric
3 Tablespoons red wine vinegar
2 Tablespoons Mrs. Dash original table blend
2 teaspoons smoked paprika
1 teaspoon celery seed
2 teaspoons dry dill
3/4 c. nutritional yeast
2 heaping cups cashew cream
unsweetened, plain soy milk (as needed)
vegan cheddar cheese shreds
Steam the broccoli until brilliant green and tender. Set aside. Saute the onion, and carrots until carrots are tender and the onion is translucent. You can use the vegan butter for this or use an oil free method if you don't consume oil. Add the garlic, turmeric, Mrs. Dash, smoked paprika, celery seed, and dill. Cook an additional minute. Add stock, nutritional yeast, and red wine vinegar. Bring to a boil and then lower to a simmer for 10 minutes.
Remove from heat. Add 4 cups of the broccoli to the soup. Puree all of the soup, in batches, until smooth. Return pureed soup to soup pot. Turn the burner on medium low and add the cashew cream. Thin with some soy milk to desired consistency, if needed. Add the whole broccoli florets to the soup. Heat, stirring frequently, until soup is hot. Adjust seasonings, and add salt and pepper, to taste.
Ladle into bowls. Top with some of the vegan cheddar shreds, and serve.
Enjoy!
~Melissa
You may enjoy these related posts: