Print Friendly Version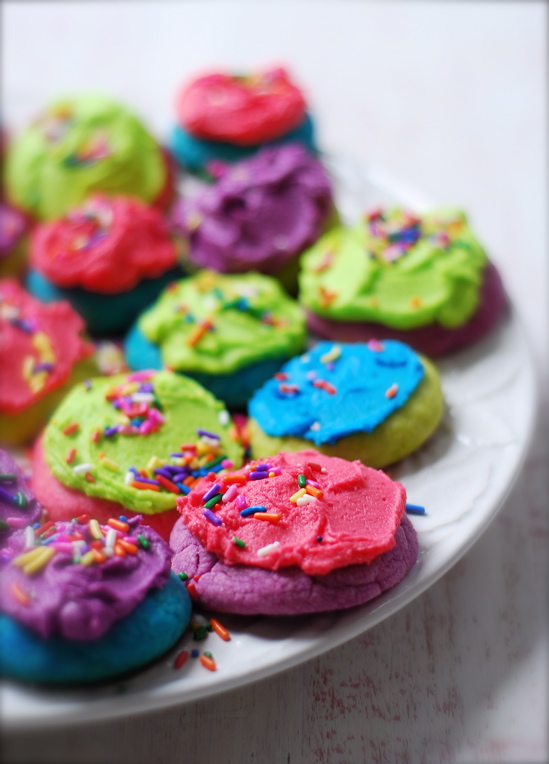 Gracie made a big batch of "Dream Cookies" yesterday. This recipe was inspired by the amazingly beautiful blog Color Me Katie.
We used our favorite sugar cookie recipe, added a little pure almond extract and a LOT of neon food coloring to the dough and buttercream frosting. (skip the part in the cookie recipe where you refrigerate the dough for 2 hours…just roll it into balls and bake.)
I started reading Katie Sokoler's blog a few years ago and immediately fell in love with all aspects of her playful art. These dream cookies were just the beginning. Long story short, Katie inspired me to become a photographer.
She puts rubber duckies in rain puddles after a storm so someone who happens to be passing by will see them and smile. Random act of AWESOMENESS.
She writes love letters to her dresses, is the creator of some rockin' street art, builds dreamy gossamer forts over her bed just 'cuz., turns ordinary bouquets into rainbow flowers,  places Pop Up gardens in random spots so her fellow New Yorkers can enjoy them, AND she's a member of Improv Everywhere (popular for breaking out into song in shopping malls and for their annual "no pants subway ride" in the middle of winter.)
Oh. Before I forget…she has a big mooshy kitty named Moo. How adorable is that?
Go on over and take a look for yourself. Katie is the guru of color therapy. Primary colors never looked so good.
Thanks Katie!
XO
~Melissa
You may enjoy these related posts: