Print Friendly Version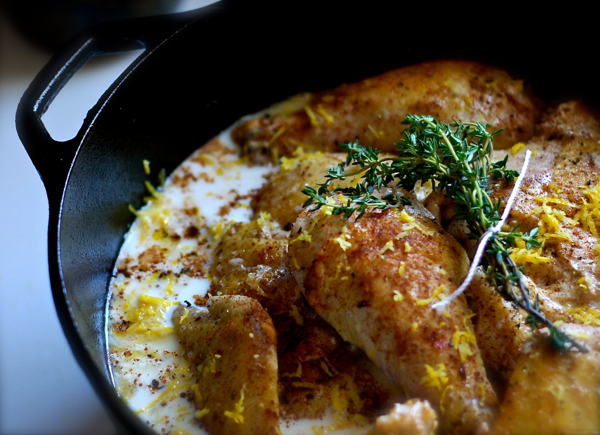 I've made so many awesome friends since joining the facebook "foodie" community five years ago (Has it really been that long? I can't believe it!) I'm constantly amazed and impressed by their creations and find myself wishing there were more hours in the day so I could try all of their beautiful food and still have time to create, develop and cook my own recipes.
Every once in awhile I find a recipe that's so gorgeous and intriguing, that I just have to give it a go. This simple chicken recipe, by my friend Ann over at The Fountain Avenue Kitchen, is a great example. I love this recipe, and I only tweaked it a tiny bit. The milk tenderizes the chicken as it cooks and the other ingredients lend a subtle, wonderful flavor to the meat. This will make your house smell fantastic as it cooks, and the fresh, humble ingredients won't break the bank. I hope you enjoy this recipe as much as we did!
3 to 4 lb. chicken pieces (bone in, skin on)
1/4 cup olive oil
1/2 teaspoon salt
1/2 teaspoon freshly ground black pepper
1/4 teaspoon to 1/2 teaspoon ground cinnamon
a few fresh thyme sprigs, tied in a bundle with cooking twine
1/4 cup lemon juice + zest of one large lemon
10 large garlic cloves, peeled and left whole
2 cups 2% or whole milk
Heat oven to 375 degrees F. Heat the olive oil in a Dutch oven over medium heat. Place chicken, skin down, in pot and allow it to cook without moving it for approximately 10 minutes or until nicely browned. Fry the chicken in 2 batches, don't crowd the pan. You don't need to brown both sides of the meat, just the skin side. Remove browned chicken to a platter as it finishes cooking. Discard most of the excess oil, leaving a little bit in the bottom of the pot along with the browned bits. Put all of the chicken back in the pot, along with the rest of the ingredients. Cover and cook in preheated oven for 1 hour and 30 minutes. Serve with crusty, buttered baguette or serve over rice, noodles or mashed potatoes. We had these with steamed sweet peas, as Ann suggested, and it was a great meal!
Thanks Ann!
XO,
~Melissa
You may enjoy these related posts: