Print Friendly Version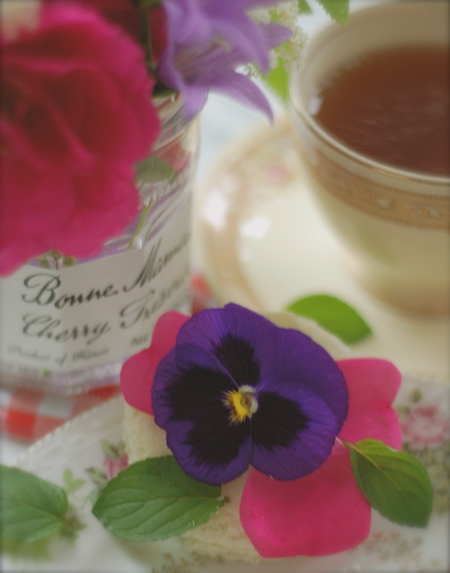 ~ rose butter tea sandwiches with scented sugar ~
Gracie and I enjoyed these fragrant, rosy sandwiches for our teatime today while watching a few episodes of  Glee. It's been raining cats and dogs today in the Mississippi river valley! The perfect kind of weather for snuggling under a quilt, turning on the fireplace, eating some spring veggie soup, and lighting candles all over the house. These sandwiches were the perfect light dessert with a cup of Darjeeling. You will want to make the rose sugar a week ahead of time, so prepare accordingly.
makes 12 tea sandwiches
for the rose butter:
1/4 cup unsalted butter
1/8 teaspoon rosewater
Mix well until light and fluffy.
Cut 12 circles out of the centers of 12 slices of soft, white sandwich bread. Spread each with some of the rose butter. Sprinkle each with rose sugar.
to make rose sugar:
1 cup white sugar
2 cups very fragrant, unsprayed rose petals, washed and dryed completely
Place the sugar and rose petals in the bowl of a food processor. Pulse until the rose petals are tiny little confetti-like pieces. Place in a covered jar for one week before using. Alternatively you could keep the rose petals in bigger pieces by pounding them with a mortar and pestle and adding them in layers to a jar of sugar. After the week is up, remove the rose petals.
After sprinkling your tea sandwiches with the sugar, garnish with fresh, unsprayed rosepetals that have been washed and blotted dry, pansies, and chocolate mint leaves.
Enjoy!
~Melissa
You may enjoy these related posts: