Print Friendly Version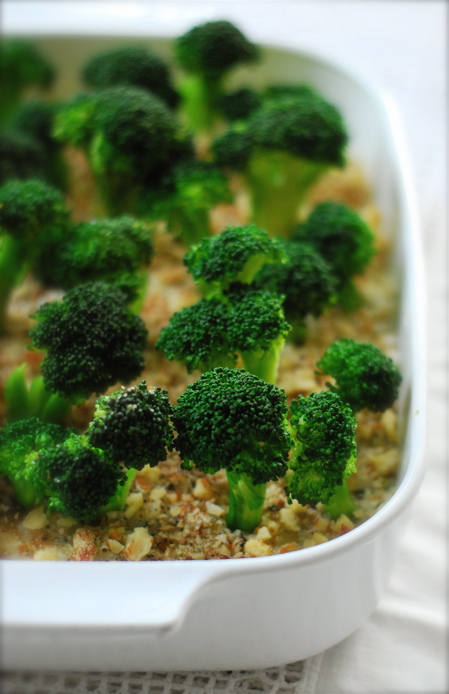 ~ enchanted broccoli forest ~
I am completely smitten with The Enchanted Broccoli Forest cookbook by Mollie Katzen. It's a playful collection of recipes for heartwarming, healthy fare. I love how the author showcases so many fresh veggies and herbs in almost every recipe! The desserts, chock full of wholesome ingredients, are still completely delicious and decadent. Mollie's are some of the only recipes I've found to treat your tastebuds without leaving you feeling bogged down by fat, sugar or guilt 😉 Try them and see for yourself.
This is a recipe for a yummy, cheesy herbed rice pilaf. The dish that the aforementioned cookbook was named after. I have never met a child that didn't love it, and it makes a great side dish or main dish for the vegetarians in your life. Don't ya just adore the name?
1 lb. fresh broccoli
1 Tablespoon butter
1 cup chopped onion
1 teaspoon salt
1 or 2 large cloves garlic
2 Tablespoons fresh lemon juice
6 cups cooked white or brown rice, slightly cooled
black pepper and cayenne to taste
1 Tablespoon minced fresh lemon thyme
2 Tablespoons minced fresh dill
3 Tablespoons minced fresh mint
1/4 cup minced fresh parsley
1/2 cup toasted sunflower seeds or chopped almonds
1 packed cup grated cheddar or swiss cheese (we use gruyere)
3 Tablespoons melted butter
Trim the tough bottoms from the broccoli stalks and reserve for another purpose (I save mine for soup stock.) Cut the tops into tallish "tree like" spears. Steam until just barely tender and brilliant green. Rinse under very cold running water. Place in a colander and set aside.
Preheat oven to 325 degrees F. Lightly grease a 9 x 13 glass cake pan. Melt the butter in a deep, heavy Dutch oven. Saute the onion in the butter for 5 minutes. Add the garlic and lemon juice. Saute for 2 minutes. Add herbs. Mix well.
Place the cooked rice in a large mixing bowl. Add the onion mixture and gently combine. Add the pepper/cayenne to taste. Gently mix in the cheese. Spread into prepared pan. Sprinkle with the sunflower seeds/nuts. Arrange the broccoli upright in the rice. Drizzle all with the melted butter. Cover loosely with foil. Bake for 15-20 minutes, or until just heated through. We like to eat this with grilled steaks or salmon…it's also lovely with chicken baked in parchment with dijon cream.
Enjoy!
~Melissa
You may enjoy these related posts: