Print Friendly Version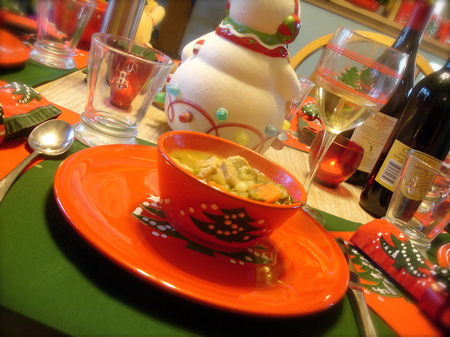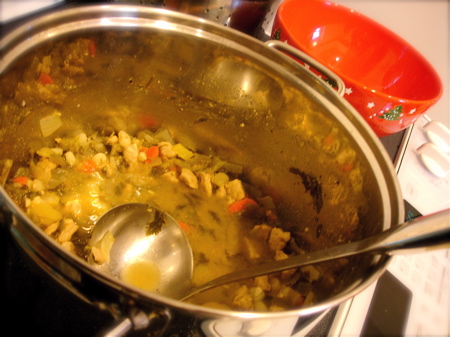 ~ tony's green chile and pork stew ~
Our friends Tracy and Tony invited us over to their home for a post-Christmas celebration. When we arrived I could smell this beautiful, spicy stew as soon as I stepped out of the car. Chock full of vegetables, chilies, beans, pork, hominy and spices with a whisper of lime. It's some of the best stew I've ever tasted. Bravo Tony!
spice mix:
2 teaspoons cumin
1 Tablespoon paprika
1/2 teaspoon coriander
1 teaspoon kosher salt
1 teaspoon freshly ground black pepper
for the soup:
2 and 1/2 – 3 lb. country style pork ribs, cut into 1 inch cubes
1 Tablespoon olive oil
2 cups chopped onion
2 carrots, peeled and sliced
1/2 cup chopped celery
2 Tablespoons chopped garlic
2 cups chicken stock (or more if you like lots of broth)
6  fire-roasted Pablano chilies
1 jalapeno, seeded and chopped
1 bunch cilantro, stems removed, coarsely chopped
1 teaspoon oregano
1 (15 oz.) can hominy, drained
2 teaspoons grated lime zest
lime juice to taste
Mix up all of the ingredients for the spice mix. Sprinkle generously over the cubed pork. Save any extra to add to the stew.  In a large stock pot or Dutch oven, heat olive oil over medium-high heat. Brown pork cubes in the oil in two batches, 6 minutes per batch. Remove pork to a plate. Add onions, carrots and celery. Cook until veggies are soft, about 5 minutes. Add garlic and cook for one minute. Add stock, scrape up any brown bits from bottom of pan. Return pork to the pot and add remaining spice mix, chilies, oregano, hominy,  and lime zest. Bring to boil and reduce to simmer. Cook until pork is tender, about 30-40 minutes. Add half of the cilantro leaves and cook for 3 minutes longer. Season stew to taste with salt, pepper and lime juice. Serve in shallow bowls and garnish with: shredded cheese, green onions and cilantro. Serve with warm tortillas or rice if you wish.
Enjoy!
~Melissa
You may enjoy these related posts: