Print Friendly Version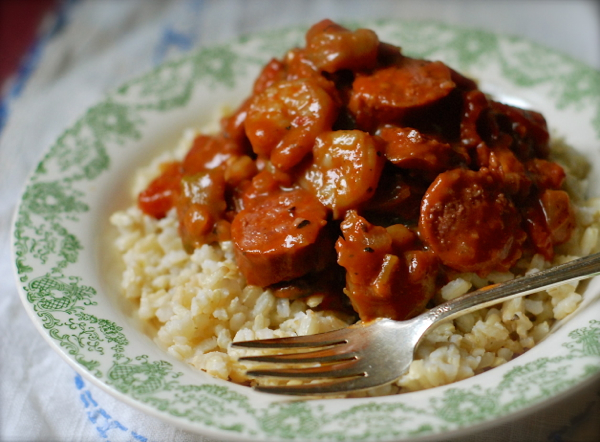 I enjoyed a day at home, alone today. It was so nice to get my workout done and then read some Little House while taking a long, candlelit bubble bath. After my bath I put on my jammy pants and watched two episodes of THIS awesome show while working on a knitting project. In January it seems these long winter days sort of mesh together into one long day… I like the slow rhythm of it. It's so meditative and I'm getting so much done.
I made this delicious, spicy dish a few nights ago when I just couldn't bear the thought of having chicken again. Ya know what I mean? Yeah, I bet you do. 😉
You'll want to make up a pot of white or brown rice ahead of time. Then, just before the etouffee is done, you can reheat it in the microwave (if necessary.)
I always make this with homemade cream soup and included a link to the recipe I use. I do this to avoid the MSG and excess sodium in most canned, condensed soups, but feel free to do whatever works best for you.
3 Tablespoons extra virgin olive oil, divided
1 large onion, chopped
1 large green pepper, seeded and chopped
2 stalks celery, chopped
2 large garlic cloves, minced
1 lb. small or medium fresh shrimp, peeled, deveined and tails removed
1 lb. smoked sausage or kielbasa, sliced
8 oz. baby bella mushrooms, washed, blotted dry and sliced
2 (15 oz.) cans petite diced, fire roasted tomatoes, undrained
6 oz. can tomato paste
1 (10 oz) can cream of mushroom soup OR 10 oz. homemade cream soup
2 Tablespoons of your favorite hot sauce
1 Tablespoon smoked paprika
1/2 teaspoon freshly ground black pepper
Heat 1 Tablespoons of the oil in a Dutch oven over medium heat. Add onion, pepper and celery. Cook until translucent. Add garlic and cook an additional minute. Remove veggies to a bowl. Add the shrimp to the pot along with another Tablespoon of olive oil. Cook just until shrimp is almost done. Add veggies back to the pot and turn off heat. Cover and set aside.
In a large skillet, heat the last Tablespoon of olive oil. Add the kielbasa and turn heat to low. Cover and cook until browned and heated through. Transfer cooked sausage to the Dutch oven. In the same skillet, cook sliced mushrooms until tender and browned. Add mushrooms to Dutch oven along with the fire roasted tomatoes. Mix everything until evenly combined. Turn on heat under Dutch oven and cook for 10 minutes on low, stirring frequently (as etouffee simmers gently.) Add tomato paste, cream soup, hot sauce, paprika and pepper. Cook an additional 5 minutes or until everything is heated through and is hot and bubbly. Serve over hot, cooked, lightly buttered rice.
Enjoy!
~Melissa
You may enjoy these related posts: