Print Friendly Version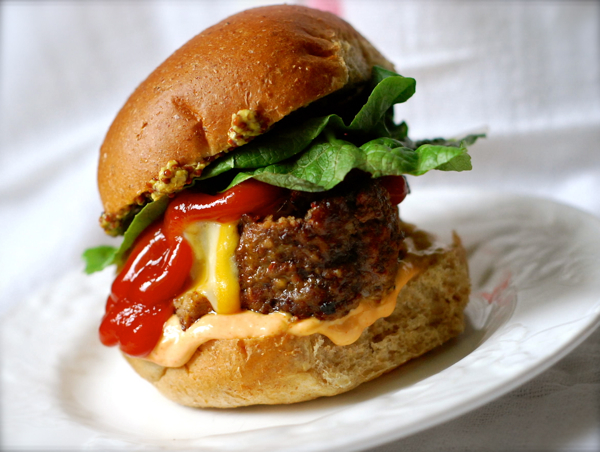 We had meatloaf for dinner last night. I made a huge one, using 3 lb. of meat, to insure we'd have leftovers for meatloaf sandwiches! Meatloaf sandwiches are SO good and I personally think meatloaf tastes better the day after you make it. I have several recipes for meatloaf here on my blog, but these are my favorites: Mushroom Meatloaf Supreme, Magic Crock Pot Meatloaf and Amish Meatloaf.
You can add or subtract ingredients as you see fit. Sometimes I add pickle slices to my meatloaf sandwiches and sometimes I don't. This time I wasn't really in the mood for pickles, so I left them out. If you like spicy, add some sriracha hot sauce or horseradish to your mayonnaise (I added sriracha this time.)
I really enjoy dressing my meatloaf sandwich like an all American burger, however I don't consider meatloaf sandwiches to be in the same category as burgers. They're two totally and completely different things!
Are you ready for the ULTIMATE? 🙂 Here ya go…
for one Ultimate Meatloaf Sandwich:
1 large, soft, fresh hamburger bun (I used a Trader Joe's 100% Whole Wheat Bun)
2 Tablespoons real mayonnaise mixed with 1 to 2 teaspoons sriracha
2 teaspoons olive oil or butter (to fry meatloaf)
1 thick piece of meatloaf
salt and pepper
kosher dill pickle slices (optional)
a little chopped, fresh onion (optional)
1 slice of melty cheese (this time I used colby jack)
organic ketchup
a couple leaves of fresh, crisp, cold lettuce
1 Tablespoon grainy Dijon mustard
Place bottom of bun on a plate. Mix mayonnaise and sriracha together and spread it on the bun bottom.
Heat oil/butter in a skillet. Once hot, reduce heat to medium and add the thick slice of meatloaf to the pan. Slowly brown it on each side until golden and fragrant. Transfer meatloaf slice to a microwave-safe plate. Place cheese slice on top of meatloaf and heat it in the microwave, just until cheese is melted (approximately 30 seconds to 1 minute.) Place cheesy meatloaf slice on bun bottom.
Top with salt, pepper and optional pickles and onions. Add a generous amount of your favorite, organic ketchup and lettuce. Spread the grainy mustard on the inside of the bun top. Place bun top on sandwich and serve immediately.
Enjoy!
~Melissa
You may enjoy these related posts: