Print Friendly Version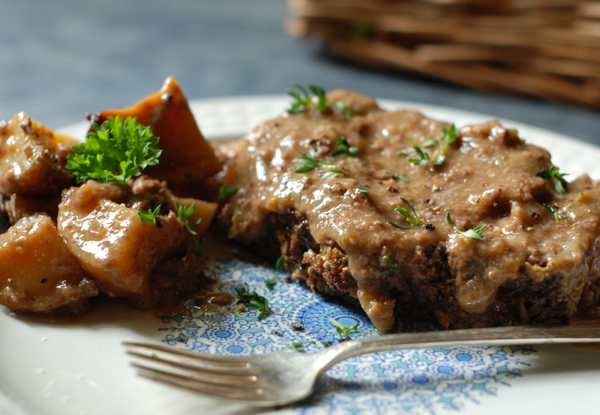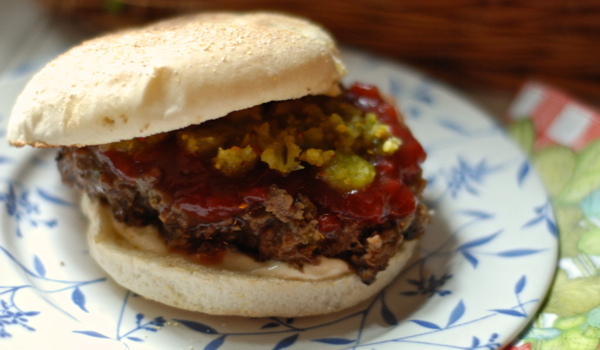 Sunny, sunny days in the Mississippi river valley. We walked up to the Red Wing Farmer's market yesterday, despite the heat, and picked up sweet corn, Italian zucchini and baby bliss potatoes for dinner. We've been grilling like crazy so we don't have to heat up the kitchen…and…using the crock pot! I use to think I could only use this little appliance when I was going to be gone, or that it was only for those warm comfort foods we enjoy in the colder months, but using the crockpot in the summer is an awesome idea. It will keep your kitchen cool and free up time so you can just enjoy your day.
We're headed to the swimming quarry today with my daughter, Andrea. Before we leave, I'm making one of these meatloaves. Everyone loves this moist, yummy meatloaf. It makes it's own gravy, so it really is kind of magic. And we LOVE leftovers for sandwiches. Just buy a bag of buns and your favorite hamburger/hot dog condiments and you're in business! The sandwich above has mayo on the bottom part of the toasted, sourdough bun, then the meatloaf, and is topped with this homemade dill relish, a squirt of yellow mustard, and this homemade ketchup. Yum, yum, yum!
for the meatloaf:
2 lb. lean, ground meatloaf meat (we use a combination of beef, pork and lamb)
1/2 cup green bell pepper, chopped
1/2 cup onion, chopped fine
2 teaspoons Lawry's seasoned salt
1 teaspoon garlic powder
1 teaspoon onion powder
1 teaspoon freshly ground black pepper
1 cup dry breadcrumbs or cracker crumbs (I like Ritz or Club)
1 large egg
1 packet (7/8 oz.) dry, brown gravy mix
1 cup whole milk
10 to 12 baby red bliss or fingerling potatoes, unpeeled
fresh thyme and parsley, chopped
Combine all ingredients, except for potatoes and fresh herbs, in a large mixing bowl. Using clean hands, mix until all ingredients are evenly incorporated and smooth. Form into a loaf and place in crock pot. Put the little potatoes all around the sides of the meatloaf. Sprinkle the fresh chopped herbs over the top. Cover and cook on the "low" heat setting for 8 to 10 hours, or on the "high" heat setting for 4 to 5 hours.
Enjoy!
~Melissa
You may enjoy these related posts: