Print Friendly Version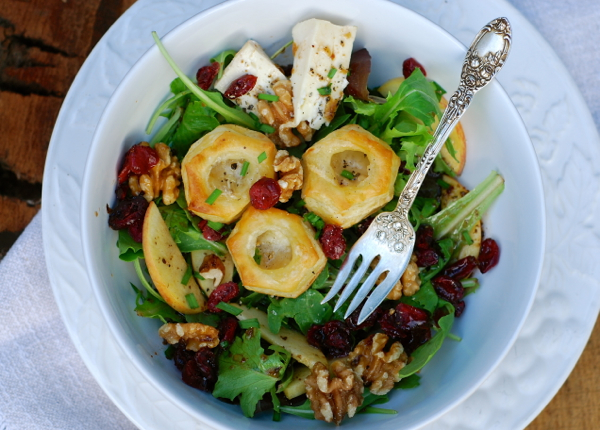 This pretty salad is a total celebration of autumn! It can be served as an appetizer, or you can add grilled chicken and present it as the main course. The warm little brie bites in puff pastry look fancy, but they're very easy to prepare. Perfect for a festive, fall dinner party!
~ serves 4 ~
for the warm brie bites:
12 mini puff pastry cups (I used Pepperidge Farm brand)
 1 to 2 oz. triple cream brie cheese, rind removed, cut into 12 small cubes
1 egg white
1 Tablespoon water
Preheat oven to 400 degrees F. Place the puff pastry cups on a parchment-lined baking sheet, 2 inches apart. In a small bowl, mix egg white and water and whisk to combine. Brush egg wash over the tops of the pastry cups. Bake in preheated oven for 10 minutes. Remove from oven. Remove the middles of the puff pastry cups by gently pushing them in with a wooden skewer. Fill middles with little chunks of brie cheese. Return pastries to oven. Bake an additional 10 minutes, or until golden brown and cheese is warm and melted.
for the salads:
4 cups spring greens
2 small sweet-tart apples (such as Gala), sliced thin
1 cup walnut halves
1 cup dried cranberries
4 to 6 oz. triple cream brie wedges
fresh snipped chives
balsamic vinaigrette (homemade or store bought)
freshly ground black pepper, to taste
coarse sea salt, to taste
Place equal portions of: greens, apple slices, walnut halves, dried cranberries, and brie wedges in 4 shallow salad bowls. Top each with some snipped chives, vinaigrette, pepper, salt, and 3 of the warm brie bites.
Enjoy!
~Melissa
You may enjoy these related posts: