Print Friendly Version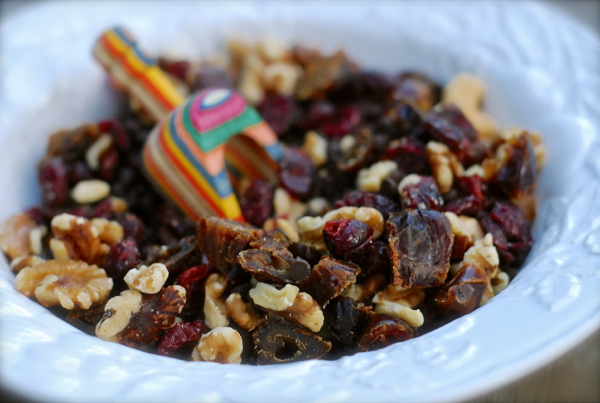 With all of the pumpkin and apple baking that's going on I decided to make a healthy, sweet alternative to all of the cakes, pastries, breads, pies, and other delicacies that have been popping up on Facebook and Pinterest. They're all yummy, I'm sure, but you can only indulge so much without suffering a sugar hangover.
Here's a delicious snack you can offer the kiddos when they get home from school, include in lunch boxes, or take along on wilderness hikes through the woods as we do during this most gorgeous of all seasons.
Health Gorp is full of flavor and it's good for you, so make up a big batch and share it with the people you love. Add dark chocolate if you wish, but it's good without it too!
2 cups chopped Medjool dates
1 cup chopped dried apricots (optional)
2 cups dried cranberries or cherries
2 cups coarse chopped walnuts or pecans
2 cups dark chocolate chips or chunks (optional)
Mix all in a big bowl. Cover and keep at room temperature until ready to eat.
This will keep, covered and at room temperature for a week.
Enjoy!
~Melissa
You may enjoy these related posts: