Print Friendly Version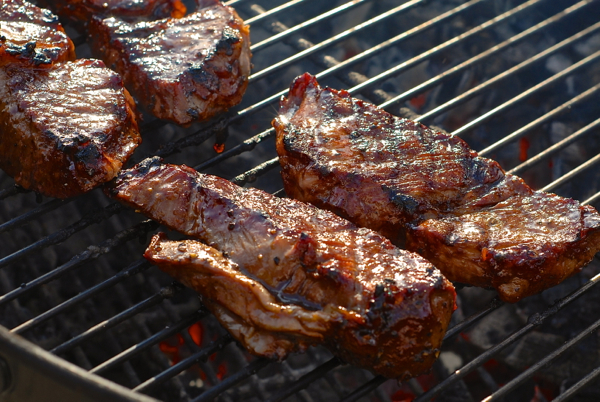 Happy Friday! I'm running in a hundred different directions this morning. My daughter is coming down to Red Wing to hang out and have tea, I'm making homemade enchiladas for a little dinner gathering tonight, and I still have a few "Cinderella" duties to attend to.
Here's a yummy way to dress up steaks if you plan on grilling this weekend. Choose four of your favorite cut of steaks (we like strip steaks for this) and allow to marinate for 2 to 24 hours…take them out of the fridge while the coals are heating up, during the last hour of marinating.
for the marinade:
1/2 cup teriyaki sauce
2 Tablespoons dark sesame oil
2 Tablespoons soy sauce
2 Tablespoons freshly ground black pepper
2 teaspoons onion powder
2 teaspoons powdered ginger
1 teaspoon garlic powder or 2 large cloves garlic, minced
Place all ingredients in a bowl with a lid. Mix well with a wire whisk. Place steaks in marinade, turning to coat all sides. Cover bowl and place in fridge for desired amount of marinating time.
Grill over charcoal until done to your liking. These steaks are awesome with THIS potato salad.
Enjoy!
~Melissa
You may enjoy these related posts: