Print Friendly Version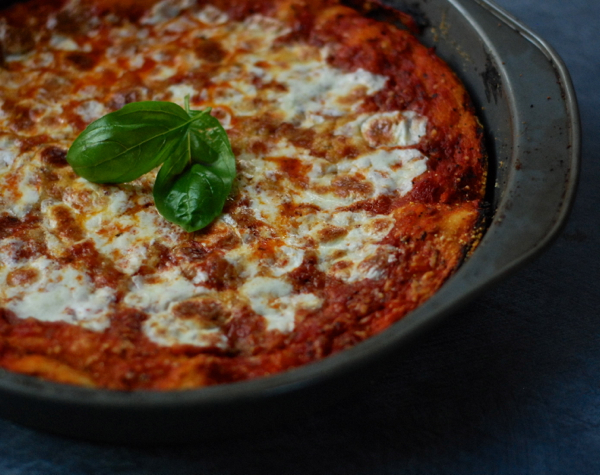 The hubby just called me from the grocery store. I had thought about heading to our favorite little cafe patio for pizza and wine tonight, but just as I was thinking about that… he said he's getting stuff to make spaghetti and meatballs. Soooooo, I'm lighting candles all over the house and playing Dean Martin. That's our "Italian Night" tradition and I love it. Nothing goes with candlelight and the scent of garlic roasting better than Dino 😉
Here's an easy recipe for scaled down "Chicago-Style" personal pan pizzas that we whipped up a few nights ago. SO delicious and easy peasy! (Especially if you already have balls of homemade pizza dough in your freezer, and we did!) This is a fun weeknight or company dinner because everyone can pick their own toppings. Above you can see Gracie's very minimalist fresh Mozzarella cheese pizza with red sauce. Jeff and I had pepperoni, Mozzarella, fresh basil, mushrooms and onions on ours. YUM!
If you use more dough to create a thicker "deep dish" crust, you may want to bake it for 4 minutes before filling it with your toppings and then bake according to directions below. If you prefer a chewier crust, just make it without the pre-baked crust. Also, if you are planning on adding veggies to your pizza, saute them until they release most of their juices first, or your pizza could cook unevenly and turn out doughy.
for one, 9-inch, personal pan pizza, you'll need:
1/4 to 1/2 lb pizza dough fresh or thawed (recipe below)
your favorite pizza sauce
your favorite cheese and pizza toppings
oil and cornmeal for the pan
Preheat oven to 475 degrees F.
Oil a nine inch round metal cake pan. Sprinkle some cornmeal in the bottom. If you're using dough that was previously frozen, make sure it's completely thawed. Press the dough into the prepared cake pan and gently pull it up the sides of the pan, pressing it with your fingers to the thickness of 1/6 to 1/8 inch.
Sprinkle a little garlic powder over the dough. Put about 1/4 cup to 1/3 cup pizza sauce over the top and spread it over the surface in an even layer. Top with your other favorite toppings, ending with the cheese.
Bake on the bottom rack of the pre-heated oven for 18-25 minutes or until the crust pulls away from  the sides of the pan, the pizza is very hot when tested in the center, and the crust is golden brown on the bottom. Allow pizza to stand for 10 minutes before removing from the pan and cutting into slices.
to make your own homemade pizza crust dough:
This recipe makes 1 lb. of dough (enough for four 10 inch pizzas.) I add Italian seasonings and a little garlic powder to my crust because I love how it makes the crust taste like garlic bread. If you just want plain pizza crust, leave out the seasonings.
1 teaspoon sugar
1 packet (1/4 oz.) active dry yeast
2 teaspoons extra virgin olive oil
1 teaspoon salt
2 and 1/4 cups all purpose flour (plus a little more for work surface.)
2 Tablespoons dry Italian seasonings (optional)
1 teaspoon garlic powder (optional)
Pour 1 cup warm water into a medium bowl; add sugar and sprinkle with yeast. Let stand until foamy, about 5 minutes. Whisk the oil and salt into yeast mixture. Add flour (and additional seasonings if you're using them.) Stir with a wooden spoon until liquid is incorporated (dough will appear dry.) Turn out onto a floured work surface. Knead until dough forms an elastic ball, about 2 minutes. Transfer dough to an oiled, medium glass bowl. Brush top of dough lightly with oil. Cover with plastic wrap and set in a warm place until dough has doubled in size (45 minutes.) Punch down dough several times. Cover and let rise an additional 30 minutes. Turn dough out onto a lightly floured work surface. Cut into 4 equal pieces. Let rest 15 minutes before using. If you want to store some of your pizza dough to use later, just place the individual dough balls in freezer ziploc bags and they will be usable for up to a month. To use frozen dough, simply remove from freezer and set on counter for about an hour, until thawed.
Enjoy!
~Melissa
You may enjoy these related posts: