Print Friendly Version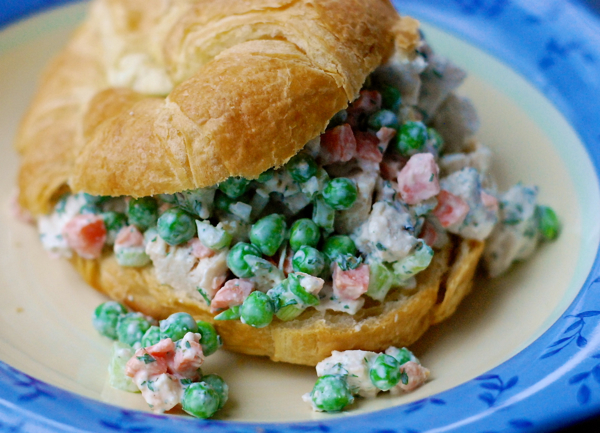 We're always looking for new ways to make croissant sandwiches. They're so delicious, and the perfect, easy-yet-fancy treat for company lunches. Some of our favorites include: Turkey Cranberry, Chickadee Cottage Chicken Salad, The Ultimate BaconTuna Fish Salad, and this. It tastes like a chicken pot pie! Serve it cold or warm alongside a big, steaming mug of homemade soup.
for 2 big sandwiches:
2 cups chopped boneless, skinless chicken breast, cooked and cooled completely
1 cup frozen peas and carrots, thawed and drained well
2 scallions, chopped (including green tops)
1/3 cup finely chopped celery
2 Tablespoons fresh parsley, chopped
1/4 cup cream
1/4 cup real mayonnaise
1/2 teaspoon onion powder
1 teaspoon fresh lemon juice OR apple cider vinegar
salt and pepper, to taste
2 large croissants, split horizontally
In a large mixing bowl, combine: chicken, peas and carrots, scallions, celery, parsley, cream, mayonnaise, onion powder and lemon juice. At this point you can either warm up this sandwich filling a bit or chill it in the refrigerator until ready to serve.
Serve on the split croissants. Salt and pepper, to taste. These are over-stuffed so you may need a fork.
Enjoy!
~Melissa
You may enjoy these related posts: