Print Friendly Version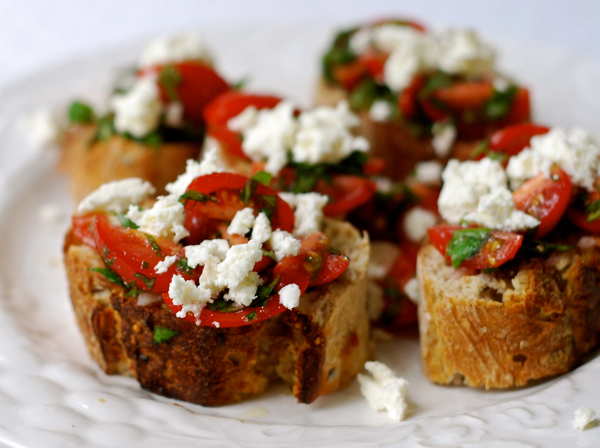 We were craving bruschetta something fierce a couple days ago, so I went out to get the ingredients and made it for our lunch. I happened to have a block of feta in the fridge, and at the last minute decided to crumble some over the top. Oh my GOSH! I'm sure I'm not the first person to do this, but I can't believe I'd never tried it that way before. SO good, and that little bit of added protein made this already delectable dish even that much more satisfying. Try it and see…
(serves 2 for lunch or 4 for appetizers)
*1 or 2 crusty French loaves (We love New French Bakery's Whole Grain)
3 Tablespoons butter
2 large cloves garlic, minced
2 cups grape tomatoes, halved
a large handful fresh basil, chopped
3 Tablespoons extra virgin olive oil
a splash of red wine
1/2 teaspoon onion powder
sea salt
freshly ground black pepper
4 oz. feta cheese, crumbled
Toast baguette in oven until golden and crusty. (The New French Bakery loaves go for about 12 minutes at 400 degrees F.) Remove from oven. Heat butter and minced garlic in microwave for 20 to 30 seconds, or until warmed. Slice baguette. Butter slices with the garlic butter. Lay buttered baguette slices out on a large serving platter.
In a medium mixing bowl, combine: tomatoes, basil, olive oil, wine, onion powder, salt and pepper. Mix well. Pile this tomato salad on the baguette slices. Crumble feta over everything and serve immediately. Enjoy with a glass of your favorite wine.
* Some French loaves are bigger than others. If you can only find the little ones, use 2.
~Melissa
You may enjoy these related posts: