Print Friendly Version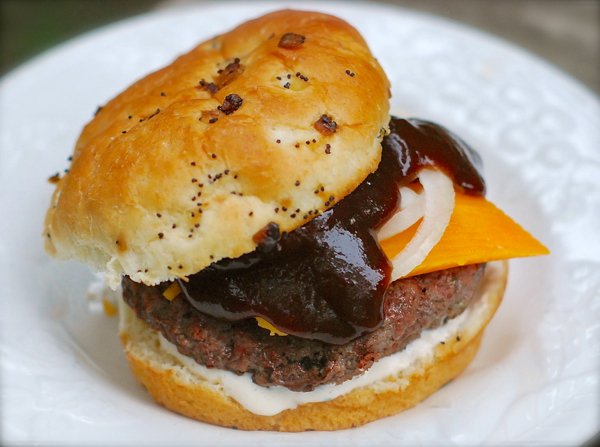 Are you ready to take cheeseburgers to a whole new level? The one, simple, *secret ingredient I'm about to reveal will help you make the juiciest hamburger patty imaginable. You're not going to believe how easy it is! Because the meat you'll be forming into patties is so moist and loose, you may want to grill your burgers on a sheet of aluminum foil (if you choose to grill them). They can be pan fried or broiled as well.
1 lb. lean ground beef
*1/2 cup unsweetened applesauce
1/2 teaspoon garlic powder
salt and pepper
3 or 4 toasted onion buns, buttered
3 or 4 Tablespoons ranch dressing
thinly sliced sharp cheddar cheese
thinly sliced onion
your favorite BBQ sauce (I like a sweet, smoky type for these)
fried bacon (optional)
Mix up ground beef, applesauce, salt, pepper and garlic powder in a mixing bowl using your hands. Form into 3 or 4 patties. Grill, fry or broil patties to desired doneness (We like ours medium rare). Spread some ranch dressing on bottom of toasted, buttered onion buns. Top with hamburger patty, cheese, onion and bbq sauce. Top with some bacon if you like.
Enjoy!
~Melissa
You may enjoy these related posts: