Print Friendly Version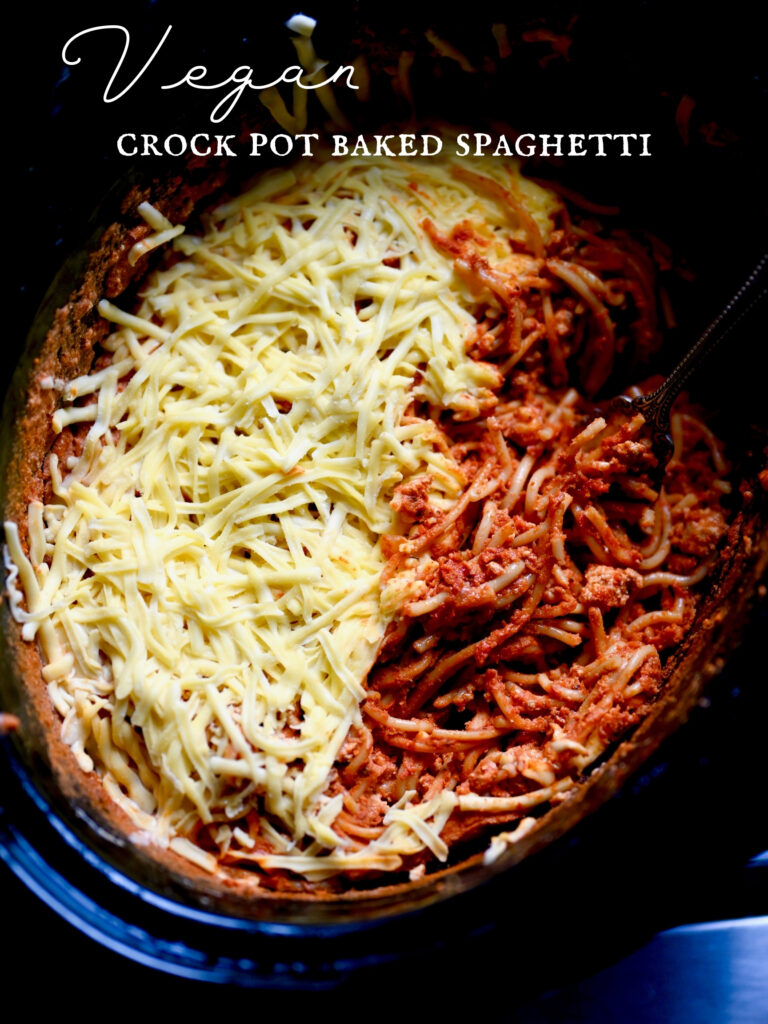 Whoa. This was fan-freaking-tastic, and so easy it's going to blow your mind. Ya know all those crazy, cream-cheese-laden, "million dollar spaghetti" recipes out there that no human can eat without gaining 10 lb.? This isn't that. It IS delicious and creamy though. I came up with it myself, and it's going in the "meals I make a lot" rotation. Perfect, warm, yummy comfort food with zero hassle.
16 oz. regular spaghetti noodles, broken into thirds
2 (24 oz.) jars of your favorite marinara sauce (we love Mezzetta marinara)
1 (24 oz.) jar of water
1 cup cashew cream (or Tofutti vegan cream cheese)
1/2 cup nutritional yeast
8 oz. extra firm tofu, crumbled
2 teaspoons onion powder
2 large garlic cloves, minced
2 Tablespoons dry oregano
2 c. shredded vegan Mozzarella (or Chao cheese shreds)
Break up the noodles and put them in the Crock Pot. In a big bowl, combine the sauce, cashew cream, water, nutritional yeast, tofu, onion powder, garlic, and oregano. Pour over the noodles and mix so all the noodles are coated and under the liquid.
Cover and cook on LOW for 4 hours or just until the noodles are done. During the last 20 minutes of cooking time, top the baked spaghetti with the shredded cheese. Cover Crock Pot and cook until cheese has melted.
Enjoy!
~Melissa
You may enjoy these related posts: